China is expected to sign agreements on nuclear energy and uranium exploration with Australia during Premier Wen Jiabao's visit to the country starting this weekend, a senior Foreign Ministry official said yesterday.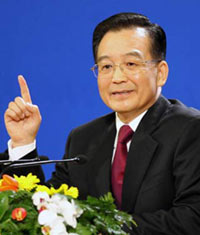 Premier Wen Jiabao answers questions from journalists in Beijing after the conclusion of the annual session of the National People's Congress, March 14, 2006. [Xinhua]

China and Australia are focused on peaceful nuclear goals, said Liu Jieyi, director general of the ministry's North American and Oceanian Affairs, at a news briefing in Beijing.

The two countries have been working on two agreements - one a general agreement on peaceful use of nuclear energy and the other a more specific deal on uranium mining exploitation, Liu said.

"The texts of the agreements have been finalized after bilateral consultations," he said. "The deals are likely to be signed during Premier Wen's visit to Australia from April 1-4."

Australia has more than 40 per cent of the world's known uranium reserves, and has three working uranium mines.

Wen will start an official visit to Australia, New Zealand, Fiji and Cambodia from April 1 with Canberra his first stop.

He will hold talks with his Australian counterpart John Howard and a series of pacts on science, culture and energy are expected to be signed.

"The nuclear energy co-operation between China and Australia is for peaceful purposes and will follow International Atomic Energy Agency safeguards," Liu said.

"The partnership is based on equality and mutual benefit; and will help the nation build an environment-friendly society."

Referring to concerns in some countries about a perceived energy shortage in China, Liu said more than 90 per cent of the nation's energy demand has been met by domestic supplies since the 1990s.

"China is trying to explore domestic resources while pursuing an energy-savvy and efficient approach to ensure supplies," Liu said.

The country ranks second both in energy consumption and production.

According to official statistics, last year's output of primary energy reached 2.06 billion tons of standard coal equivalent, while energy consumption amounted to 2.22 billion tons of standard coal equivalent.

Meanwhile, Liu said, China is also willing to promote international partnerships with other countries, including Australia, in the energy sector.

He also hoped that enterprises in the two counties can reach long-term, mutually-beneficial agreements on the disputes over iron ore price rises.

Australia's iron ore giants are scheduled to hold talks with Chinese steelmakers this week hoping to reach a price settlement.

Trade volume between China and Australia reached US$27.2 billion last year, up 33 per cent over the previous year, according to official figures.

According to Liu, Wen will also attend the opening ceremony of the first China-Pacific Island Countries Economic Development and Co-operation Forum to be held in Fiji during his eight-day four-nation visit.

"The official visit to Australia and New Zealand will also help promote negotiations on the establishment of free trade areas (FTAs) between China and the two countries," Liu said.