Intellectual property right (IPR) violations cannot be eliminated overnight but China will speed up the process, a top copyright official pledged yesterday in Beijing.
The government has been resolute, and made headway, in cracking down on infringements and piracy of laser discs and software, said Yan Xiaohong, deputy chief of the National Copyright Administration of China.
"For a developing nation like China, protecting IPRs is a process ... We hope to shorten this process as much as possible, but it's difficult to eliminate it overnight," he told a press conference.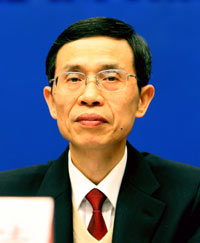 Zhu Xiaoqing, deputy procurator-general of the Supreme People's Procuratorate. [Xinhua]

To ensure serious IPR offenders face criminal penalties instead of just administrative fines, China has made it mandatory for law-enforcers to transfer such offences to judicial authorities "timely," Zhu Xiaoqing, deputy procurator-general of the Supreme People's Procuratorate, said yesterday.

The combination of administrative punishment and criminal penalties has enabled copyright law-enforcement agencies to strike hard at infringers and pirates, Yan said.

Last year, law-enforcers transferred 18 major Internet copyright infringement cases to judicial departments, according to Yan.

Since 1996, China has broken up 223 illegal laser disc production lines, of which six were in this year, he said.

The government is offering rewards of up to 300,000 yuan (US$37,000) for any tip-off that leads to the exposure of an underground production line, Yan said.

During a recent investigation of half of the country's disc manufacturers, authorities revoked the licences of six companies and halted production at eight more, including one in Southwest China's Chongqing Municipality and another in Beijing.

Visiting US Commerce Secretary Carlos Gutierrez said in a speech at Chongqing University yesterday that widespread counterfeiting was not only harming US companies but also posing a threat to China's own long-term development.

Yan said that China destroyed 106 million pirated discs and books last year alone, indicating that the country's crackdown was effective. But at the same time, there is a serious problem with piracy, which needs to be curbed through more forceful and effective measures.

Yan also said that by the end of last year, all Chinese government departments were using authorized software.

The copyright agency, along with the ministries of information industry and commerce, require computer makers to pre-install copyrighted operating systems, and enterprises in China to use authentic applications only.

Also speaking at yesterday's briefing, Zheng Shaodong, a Ministry of Public Security official, said China wanted to "strengthen co-operation with international authorities" in IPR protection.

"We hope to strike hard against international intellectual property right infringements," Zheng said.

(China Daily 03/28/2006 page1)