A gas leak in southwest China has triggered a huge explosion, forcing the evacuation of 11,500 people and polluting a river, according to Xinhua News Agency.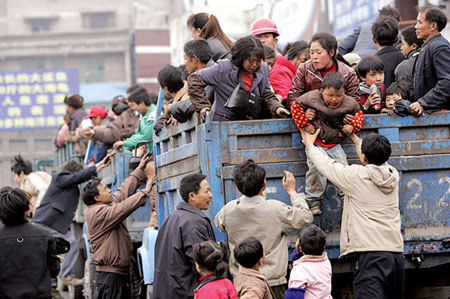 Residents of Gaoqiao, a town in Southwest China's Chongqing Municipality, prepare to leave their homes after a gas leak March 25, 2006. [Chongqing Economic Times]
The accident in Chongqing municipality early on Saturday morning occurred in Xiaoyang village, the same location as another gas leak in December 2003 that killed 243 people in one of the nation's most deadly industrial incidents.
Both accidents were in operations run by the Chuandong Drilling Company, which is owned by China's largest oil firm, the China National Petroleum Corporation (CNPC), Xinhua news agency said.

A broken pipeline belonging to the Chuandong Drilling Company caused Saturday's blast, with local residents reporting a "big bang" and seeing the nearby Gaoqiao river "rolling and foaming," Xinhua news agency said.
There were no initial reports of deaths, according to Xinhua.
Emergency measures were being implemented to shut down the well, with about 500 cubic meters (17,50 cubic feet) of high-density slurry and 300 tons of cement trucked to the site, Xinhua said.
"We are studying the possible consequences of the capping and trying to figure out how big the evacuation should be," it quoted Chongqing vice mayor Zhou Mubing as saying.
Officials had also warned local residents against drinking water from the local river.
A spokesman for the local government, He Zhengcai, confirmed the accident took place at the village in Gaoqiao town, Kaixian county, and that more than 10,000 people had been evacuated.
He said the river had not been badly contaminated and that the air was not dangerously polluted.
Officials from CNPC were not immediately available to comment on Monday.