China sticks to its chosen path of peace and development, said Jia Qinglin, chairman of the National Committee of the Chinese People's Political consultative Conference (CPPCC) in Jakarta Sunday.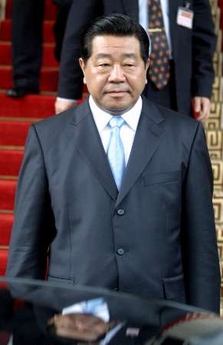 Jia Qinglin, member of the Standing Committee of the Politburo of the Communist Party of China and the chairman of the National Committee of the CPPCC leaves Government Office after meeting with Vietnam's Prime Minister Phan Van Khai (unseen) in Hanoi March 21, 2006. [Reuters]

The Chinese people deeply understand that development can be permanent and reliable only if it is realized by peaceful means, said Jia, also member of the Standing Committee of the Political Bureau of the Central Committee of the Communist Party of China, while delivering a speech at the welcome banquet attended by over 800 people from various sectors of Indonesia.

Such development can benefit both the Chinese people and people of other countries, he said in the speech titled "Strengthening Exchanges and Cooperation, Creating a Beautiful Future Together."

China consistently upholds its independent and peaceful diplomatic policy and its development will not be in the way of any others, or a threat to any others, but can only contribute to the world's peace, stability and common prosperity, said Jia, who arrived in Indonesia on Friday on a four-day visit.

In the diplomatic field, China adheres to the policy of "being friendly to neighboring countries and taking them as companions" and strive for mutual benefit and win-win outcome, said Jia.

In 2005, China imported 440 billion U.S. dollars worth of commodities from Asian countries and it will surpass 2,000 billion U.S. dollars in the next five years, he noted, adding that China's overseas investment increases at an average speed of 20 percent each year, with 80 percent of it in Asia.

The peaceful development of China brings huge benefit to Asian countries and also opportunities for Asia's development, he said.

Meanwhile, Jia said that it is an important part of China's diplomatic policy to promote its strategic partnership with the Association of Southeast Asian Nations (ASEAN), of which Indonesia is a member with pivotal influence.

China and Indonesia enjoy long history of friendship, which is precious asset for both sides, said Jia, adding that the bilateral ties have seen long-term development with mutual political trust enhanced, economic and trade cooperation bearing fruits, cooperation in other fields deepened and coordination in global and regional issues remaining frequent and efficient.

In 2005, leaders of the two countries signed a joint declaration of establishing strategic partnership between China and Indonesia, which opened a new era for bilateral ties, said Jia.

The bilateral ties can possess brighter future through both sides' efforts, he added.

China and Indonesia, both as important developing countries in Asia, are tied together by common goals and united to fight common challenges, he said, calling for both sides to join hands to strive for Asia's peace and development and the world's harmony and prosperity.

Jia is scheduled to meet Indonesian President Susilo Bambang Yudhoyono, Vice President Yusuf Kalla and Chairman of the People's Consultative Assembly Hidayat Nur Wahid in the next two days and leave the country on Tuesday.