China's Lenovo Group Ltd. said on Friday it would welcome a US investigation, if necessary, to quell concerns about any spy threat from a State Department order of more than 15,000 of its computers.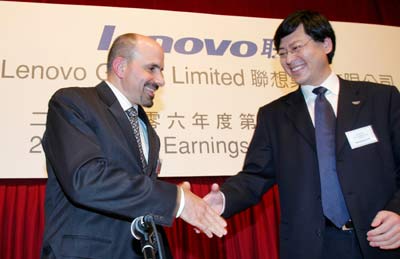 Lenovo's new president and CEO William J. Amelio (L) shakes hands with chairman Yang Yuanqing during a news conference announcing the company's results in Hong Kong January 26, 2006. Amelio, the former SVP of Dell, replaced former CEO taken from IBM, Steve Ward, in December 2005. [Reuters]
"We have nothing to hide," said Jeff Carlisle, vice president of government relations for Lenovo, which bought IBM's personal computer division last May.
But he said no investigation was warranted and voiced qualms about being put at an unfair competitive advantage in the US federal contracting market.
At issue are the latest US "national-security fears" sparked by acquisitions or other business inroads in the United States by companies based overseas.
Last month, a proposal by state-owned Arab company Dubai Ports World to operate six key US ports as part of its purchase of Britain's P&O caused a US political storm over whether security was at risk. DP World subsequently promised to sell the US ports to an unrelated US buyer.
In another deal that has drawn attention this week, the Bush administration is negotiating with Hong Kong-based Hutchison Whampoa Ltd on a contract involving nuclear detection devices at Freeport, Bahamas, that would monitor cargo passing through to the United States.
The Lenovo computers -- 15,000 ThinkCentre 51 desktop units and nearly 1,000 ThinkCentre M51 minitower units, valued at more than US$13 million -- were bought under standard US government purchasing rules through a contractor, the State Department said on Wednesday.
The State Department bought the Lenovo material through CDW Corp., a government contractor based in Vernon Hills, Illinois, that announced the deal on Monday.
The original order was for unclassified systems with removable hard drives consistent with the best value for US taxpayers, said a department spokesman, Sean McCormack.
The computers are assembled at factories in Raleigh, North Carolina, and Monterrey, Mexico, with "chip sets," or integrated circuits, made in Taiwan, Carlisle said in a telephone interview.
They were identical to machines that IBM would have sold the US government a year ago and would be subject to no modification, he added.
Carlisle said Lenovo wanted to deal in facts, "not on the basis of rather vague concerns about security."
But Michael Wessel, a member of the US congressionally created US-China Economic and Security Review Commission, said the opportunity for intelligence gathering through hardware and software were "enormous," notably if embedded codes could be remotely activated. "This needs to be investigated," he said.
Carlisle said if any attempt were ever made to install anything unauthorized. "it would be easily detectable by just about anybody." He also said he understood the standard US procedure was to wipe the hard drives and install a software "image" of its own.
Larry Wortzel, head of the US-China commission, said he expected US lawmakers to start asking questions about the State Department purchase from Lenovo.
"If you're a foreign intelligence service and you know that a (US) federal agency is buying 15,000 computers from your company, wouldn't you look into the possibility that you could do something about that?" he said.
Lenovo is traded on the Hong Kong stock exchange and is owned 42 percent by Legend Holdings Ltd., 34.7 percent by the general public, 13.2 percent by IBM and 10.1 percent by three private equity groups, as of January 31, said Carol Makovich, a spokeswoman.