The top Republican and Democrat on the U.S. Senate Finance Committee will introduce long-awaited China trade legislation on Tuesday -- a move that could siphon support from another controversial bill threatening China with punitive tariffs that violates WTO rules.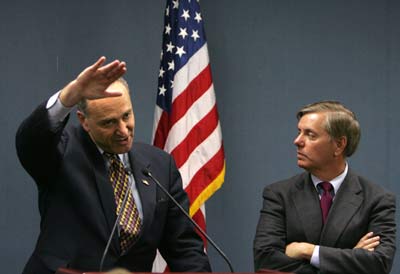 US senator Charles Schumer (L) gestures as U.S. senator Lindsey Graham looks at him during a news conference in Beijing March 23, 2006.  [Reuters]
Senate Finance Committee Charles Grassley, an Iowa Republican, and Sen. Max Baucus, a Montana Democrat, said in a press release on Friday they would unveil their bill on Tuesday. That is just a few days before the Senate is scheduled to vote on a bill threatening to punish China for its currency policies.
The United States government has been pressuring Beijing to hike the value of its currency, the yuan, against the dollar, in the hope to set a higher barrier to hold back inexpensive Chinese goods from entering US market.
The Grassley-Baucus "legislation will establish a more constructive framework to address currency imbalances that harm the US economy," the senators' statement said. "The bill will also address congressional concerns regarding trade enforcement, by focusing efforts to prioritize and respond to the most significant export barriers."
Beijing has countered saying the Bush administration has forbidden hi-tech goods, like satellites and advanced computer systems, to be exported to China.
The legislation is aimed at facilitating "a more positive engagement with our trading partners, including China, by encouraging compliance with the norms expected of economies that derive benefit from an open international trading system," the senators' statement said.
In a sign of frustration over the huge US trade deficit with China, which Washington put at a record $202 billion last year, the Senate is scheduled to vote next Friday on a bill threatening China with a 27.5 percent tariff on its exports to the United States if Beijing does not revalue its yuan currency at a "fair market" value against the US dollar.
The authors of that legislation -- Sen. Charles Schumer, a New York Democrat, and Sen. Lindsey Graham, a South Carolina Republican -- indicated after meetings with senior Chinese officials this week in Beijing that they could decide to delay a vote on their bill.