Russia will build two large gas pipelines to China within five years, it was announced yesterday. (click here for full coverage)
The two countries will also continue a feasibility study on extending a Siberia-Pacific coast oil pipeline to China.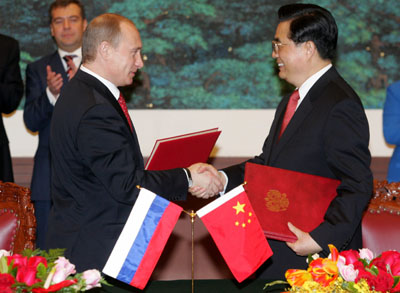 Chinese President Hu Jintao (R) exchanges a contract with Russian President Vladimir Putin during a signing ceremony at the Great Hall of the People in Beijing March 21, 2006. [Reuters]
The high-profile energy deals were announced after nearly two hours of talks between President Hu Jintao and his visiting Russian counterpart Vladimir Putin.
The two leaders issued a joint declaration and witnessed the signing of 15 agreements on energy supplies, trade and investment.
According to the joint statement, energy is one of the main components of the strategic partnership between the two countries; and both sides plan "to implement a strategy of diversification in the energy sphere."
The statement stressed that the "energy departments and companies of the two countries are working actively to promote pipeline projects to supply crude oil and natural gas from Russia to China."
China National Petroleum Corp (CNPC), the country's biggest energy firm, and Russian gas giant Gazprom signed a contract for the building of two gas pipelines reportedly costing up to US$10 billion.
Gazprom Chief Executive Alexei Miller was quoted as saying that one of the pipelines would deliver gas from west Siberia and the other from Russia's Far East; and each of the pipelines would be capable of delivering 30 to 40 billion cubic metres of gas each year. China is reported to have consumed about 39 billion cubic metres of gas in 2004.