SHANGHAI: A senior US trade official said that he is optimistic about Sino-US trade relations but also realistic about the challenges they face.
"Our economies are growing increasingly interdependent every day. We meet more frequently with our Chinese counterparts and I believe that both sides understand the importance of making this relationship work," Deputy US Trade Representative Karan Bhatia told scholars and students at the Shanghai Institute of Foreign Trade yesterday.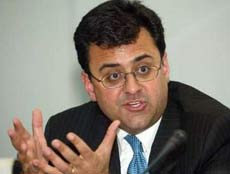 Karan Bhatia, deputy U.S. Trade Representative speaks during a speech at the Shanghai Institute of Foreign Trade March 21, 2006. [Reuters]

Bhatia is scheduled to go to Beijing today for talks with his Chinese counterparts ahead of the US-China Joint Commission on Commerce and Trade (JCCT) meeting to be held in Washington DC early next month.

Bhatia said China deserves credit for making substantial reforms as part of its WTO commitments; and that US policy must be reoriented to deal with China.

"As mature trading partners, there is a long list of important issues on which we believe the US and Chinese governments need to make more progress," he said.

Market access, the protection of intellectual property rights, subsidies and transparency are some of the main issues, he said.

Bhatia said the Bush administration is committed to using co-operative bilateral mechanisms such as the JCCT to the fullest extent possible to resolve bilateral trade and economic issues. But he believes it is natural for the two countries to have a large number of issues on which they have differences.