Russia will build two large-scale gas pipelines to China within five years, the head of Russian gas giant Gazprom said here Tuesday after signing a deal with China's biggest energy firm.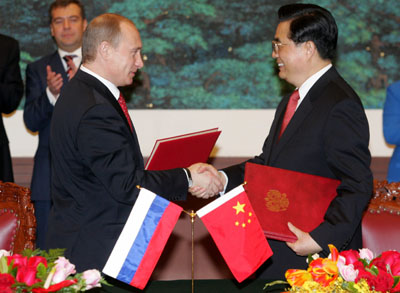 Chinese President Hu Jintao (R) exchanges a contract with Russian President Vladimir Putin during a signing ceremony at the Great Hall of the People in Beijing March 21, 2006. Russia and China aim to more than double bilateral trade by 2010, officials from both countries said, during a trip to China by President Vladimir Putin that will focus on deepening energy cooperation. Putin is visiting China from March 21-22. [Reuters]

Gazprom chief executive Alexei Miller told reporters that the price and other financial details had not yet been agreed in the deal that was inked with China National Petroleum Corp (CNPC).

"Today in fact we have determined the time frame and the scale," Miller said. "We are talking about large-scale deliveries (of gas)."

The Gazprom-CNPC deal was one of 15 agreements signed between Russia and China one the first of a two-day visit by Russian President Vladimir Putin to Beijing.

Miller, who was part of Putin's delegation, said one of the pipelines would deliver gas from west Siberia and the other from Russia's far east.

He said the aim was for the gas to go online within five years.

Each of the pipelines would be capable of delivering 30 to 40 billion cubic metres (1.05 to 1.4 trillion cubic feet) of gas each year, Miller said, adding that negotiations over the financial details were ongoing.

"We are in the phase of commercial discussions," Miller said.

He said the focus of these talks would be the "conditions for purchase on the basis of world prices".

Russian news agencies had earlier quoted Putin as saying after meeting with Chinese President Hu Jintao that the gas supplies were on the cards.

"We envisage the possibility of constructing a gas pipeline system across the Russia-China border," Putin told Russian reporters.