China hit back at the United States on Tuesday for a White House national security report that criticized the country's military buildup and trade policies, saying the remarks were "groundless" and harmed relations.
"We ask the US side to stop releasing remarks that are harmful to the healthy development of the Sino-US relations, to mutual understanding and to regional peace, stability and development," Foreign Ministry spokesman Qin Gang said in remarks carried by the Xinhua news agency.
China has made a "strong representation" against the United States over the report and expressed its "strong dissatisfaction," Qin said.
He said China is a major force in safeguarding world peace and promoting common development, and China has already decided its domestic and foreign policies and development direction.
China carries out a national defense policy which is defensivein nature and its limited national defense strength is targeted for self-defense, Qin said.

The White House security reports put China under closer scrutiny, citing Beijing's military spending, trade and currency policies as nuisances in growth of bilateral relations.
But analysts say raising complaints now may be part of a strategy of laying the controversial issues on the table before Chinese President Hu Jintao's inaugural trip to Washington late next month.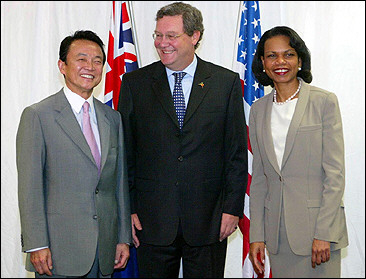 (L-R) Japanese Foreign Minister Taro Aso, Australian Foreign Minister Alexander Downer and US Secretary of State Condoleezza Rice pose for a photograph prior to their trilateral talks in Sydney. The historic security talks concluded with praise for China's engagement in the Asia-Pacific and an agreement to seek greater cooperation within Asia. [AFP]


China was the focus at trilateral security talks on Saturday between foreign ministers of the United States, Australia and Japan, and was singled out in a White House report released last week that urged reform of its trade policies and military transparency.

"It seems that now they've raised concerns and complaints, it could damage the climate when President Hu pays his visit. But that's why Hu Jintao wants to talk with his U.S. counterpart," said Professor Zhu Feng, an expert on Chinese-U.S. relations at Peking University.

"It will magnify the necessity for both sides to maintain high-level contacts," Reuters quoted him as saying.

U.S. Secretary of State Condoleezza Rice said in Australia and Indonesia last week that China's military budget, which will rise 14.7percent this year to $35 billion, is a concern in relations. Washington is also pressuring Beijing to revalue its yuan currency at a higher exchange rate, and allow more U.S. firms to do business in China, one of the worldĄŻs biggest markets.

Two U.S. senators pushing for higher export tariffs unless China revalues the yuan and U.S. Commerce Secretary Carlos Gutierrez are also due to visit Beijing this week, Reuters reported.

But Washington may be reluctant to push too far as it tries to engage Beijing on a series of multilateral issues, including Western efforts to curb Iran's atomic ambitions and talks on North Korea's nuclear programs.

"This has been the U.S. strategy toward China. On the one hand, economically, socially and on the international stage, it tries to engage China," said Lai Hongyi, a scholar at Singapore's East Asia Institute, in an interview with Reuters.

"But at the same time, on the military and national security front, the U.S. is also making moves to hedge against China's military power."

Washington also risks alienating its regional allies if it pushes too far with criticisms of China they may not agree with, analysts say.

While U.S. Secretary of State Condoleezza Rice was focusing on China's military last week, Australia made it clear it sees China's rise as more of an economic opportunity than a threat.

China's growing demand for raw materials such as grain and minerals that Australia produces made the two increasingly closer trade partners, said David Zweig, director of the Hong Kong-based Center on China's Transnational Relations.

"I think the basic tone in Beijing is that we can only do what we can," said Peking University's Zhu. "We can't sacrifice national interest just for concern in the United States."