One of China's most popular television programs last year, an "American Idol" knockoff called "The Mongolian Cow Sour Yogurt Supergirl Contest," is apparently about to be reined in by government regulators here.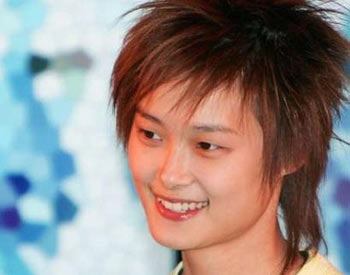 Chinese singer Li Yuchun attends a Christmas celebration event in Hong Kong December 24, 2005. Li won a televised singing contest called 'Super Girl's Voice 2005'. [Reuters]
"Supergirl" was watched by more than 400 million people in China last year, making it one of the most successful shows in Chinese television history. At its conclusion last summer, a spiky-haired 21-year-old college student named Li Yuchun was voted most popular singer by fans of the show.
The contest transformed its finalists into pop stars with big endorsement deals. And it was also a sensation for Hunan Satellite Television, a popular and sometimes risqué television network based in central China.
Now, other television stations are producing copycat versions of the show, and major advertisers have been lining up to be sponsors of this year's "Supergirl" contest.
But media experts here say the slightly rebellious nature of the show, which showed participants in baggy jeans singing with unusual emotion, crying on stage and punching their fists in the air, may have gone too far.
The contest was a significant shift away from China's usual television fare, which often revolves around soap operas and delicate women in traditional Chinese dresses, singing and dancing.
Some experts and commentators on the Chinese media called the notice a reaction against the show by conservatives in the government.
Such television contests, the notice said, would now be more strictly regulated and controlled by the authorities than before.
For instance, the notice said that some contests might not even be allowed to be broadcast in certain regions. And the contests should not promote "philistinism" or allow presentations that have "low class," the notice went on.
Many who watched the program said that Ms. Li, last year's "Supergirl" winner, dressed and danced like a boy, and that several other contestants gyrated wildly on stage.
In its notice, the government also called for strict controls to avoid "vulgar" displays of clothes or jewelry. And the notice even went so far as to instruct contest judges, advising them to be "practical and realistic," "positive and healthy," and not to make contestants feel embarrassed.
A spokeswoman for Hunan Satellite Television declined to comment on Monday.