China's yuan rose to the highest since a peg to the dollar was scrapped in July, as U.S. senators arrived to press the case for a stronger currency.
"The movements are encouraging," Senator Lindsey Graham said after landing in Beijing. In talks with Chinese officials Tuesday, the Republican from South Carolina said he wants to find out what more could be expected from China.
Graham and Senator Charles Schumer accuse China of keeping the yuan's value low to give its exports a competitive advantage.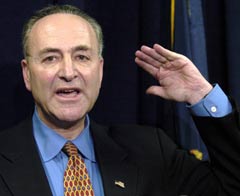 US Senator Charles Schumer is seen in this photo taken on February 21, 2006. [Reuters]

"The diplomatic atmosphere has played a role as it suits Chinese interests to move a little quicker," said Simon Flint, head of emerging Asia currency strategy at Merrill Lynch & Co. "The U.S.-China relationship is at risk of deterioration."

The yuan, a denomination of China's currency, the renminbi, climbed 0.09 percent to 8.0241 against the dollar as of 5:30 p.m. in Shanghai, according to data compiled by Bloomberg. It may strengthen beyond 8 to the dollar this month, Flint said.

Schumer, a Democrat from New York, and Tom Coburn, a Republican from Oklahoma, are accompanying Graham for the five-day trip to assess China's exchange-rate policy.

On March 15 the yuan rose 0.12 percent, the biggest gain since the revaluation. The jump followed Premier Wen Jiabao's comment that the market will play a greater role in setting exchange rates. China said at the time of the revaluation last year it would let the yuan move as much as 0.3 percent per day.

'Doing Its Best'

"The focus is going to be on the senators' visit," said Irene Cheung, a Singapore-based currency strategist at ABN Amro Bank NV. "It's a good opportunity for China to allow the yuan to appreciate." Cheung forecasts the yuan will appreciate to 7.65 against the dollar in 12 months.

The government is working to move toward a freely traded currency, Wu Xiaoling, vice governor of the People's Bank of China, told reporters in Beijing on March 18.