U.S. senators and senior Bush administration officials head to China this week, kicking off a decisive period in bilateral economic relations leading up to President Hu Jintao's visit to Washington next month.
"These are momentous times for trade relations between America and China," Sen. Charles Schumer, a New York Democrat, said at joint news conference with Sen. Lindsey Graham, a South Carolina Republican, ahead of their trip to pressure Beijing to revalue its yuan currency at a higher exchange rate to the dollar.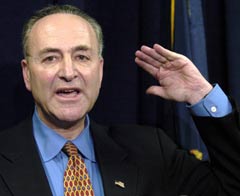 US Senator Charles Schumer is seen in this photo taken on February 21, 2006. [Reuters]

The latest deadline of March 31 follows months of frustration that changes made by China to its exchange rate mechanism last July have only led to an estimated 3 percent rise in the yuan's value, rather than the 15 percent to 40 percent increase that many in the United States had sought.

"You have our vote scheduled for the 31st. You have President Hu's visit and you have the currency report," Schumer said, referring to a trio of events that have the potential to shape U.S.-China economic relations for years to come.

Schumer and Graham are co-authors of a bill opposed by the Bush administration and many in the business community that threatens China with a 27.5 percent tariff on its exports to the United States unless Beijing agrees to revalues it yuan "at or near its fair market value," as determined by Washington.

Many U.S. lawmakers and manufacturers believe the yuan is so undervalued that it gives China's products an unfair advantage that has cost millions of American jobs and fueled a bilateral trade gap that hit a record $202 billion last year. But China puts the surplus figure at US$114.2 billion.

Critics call the Graham-Schumer bill a dangerous plan that would roil relations with the United States' third-largest trading partner and fastest-growing export market.