The United States, Australia and Japan concluded historic security talks with praise for China's engagement in the Asia-Pacific and an agreement to seek greater cooperation within Asia.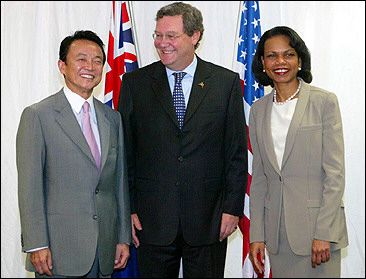 L-R Japanese Foreign Minister Taro Aso, Australian Foreign Minister Alexander Downer and US Secretary of State Condoleezza Rice pose for a photograph prior to their trilateral talks in Sydney. The historic security talks concluded with praise for China's engagement in the Asia-Pacific and an agreement to seek greater cooperation within Asia. [AFP]


US Secretary of State Condoleezza Rice and Japanese Foreign Minister Taro Aso were hosted by Australian Foreign Minister Alexander Downer for talks in Sydney that focussed on the war in Iraq, Iran's nuclear crisis and China's rising power.

"Supporting the emergence and consolidation of democracies and strengthening cooperative frameworks in the Asia-Pacific region was a particular focus of our attention," they said in a joint statement.

"We welcomed China's constructive engagement in the region and concurred on the value of enhanced cooperation with other parties such as ASEAN (Association of Southeast Asian Nations) and the Republic of Korea."

The parties welcomed as a positive step a decision by India to place its civilian nuclear facilities under international safeguards and recognized the importance of "reinforcing our global partnership with India."

China's growing influence was expected to a major issue at the talks following remarks by Rice earlier this week urging the Asian giant to explain its military build-up.

Downer Saturday moved to dampen fears that the trilateral meet was designed to produce a containment strategy on China, saying it was natural for three countries with so much in common to meet to discuss security.

At a press conference after the meeting, Downer sought to reassure China there was no "conspiracy" against it.

"This is a very natural relationship... and shouldn't be interpreted as an act of conspiracy against China, of course it's not," he said.

"It's not for China to feel that we are ganging up on China or that Australia is suddenly changing its policy on China."

Downer said the three countries were committed to helping Beijing participate fully in the region.

"I think we all pretty much agree, even if we use different language, we want to have a constructive relationship with China," Downer said.

He praised China's role in attempting to convince North Korea to return to international talks on its nuclear programme, an outcome called for in the joint communique.

In the statement, the trio also expressed serious concern over Iran's uranium enrichment program and urged Tehran to return to talks with the United Nations' nuclear watchdog, the International Atomic Energy Authority, and comply with its demands.

"We have grave concerns about Iran's nuclear programme and discussed the need for concerted action at the UN Security Council to convince Iran to promptly suspend all enrichment-related activities," they said.

Downer urged Iran to abandon its decision to proceed with its "so-called research program into uranium enrichment."

"We are concerned that they aren't showing a great deal of intention to do that," he said.

Iraq was also discussed but Downer refused to give details on a possible timetable for the withdrawal of Australian or Japanese troops.

"There was obviously discussions about many aspects of the Iraq issue and I am not getting into those kinds of issues publicly," he told reporters.

The talks coincided with a 500-strong Sydney protest to mark the third anniversary of the war in Iraq.

Organizer Anna Samson called for the immediate withdrawal of foreign troops.

"The US needs to admit that the military approach is not the answer to peace in Iraq," she told AFP.

Taro Aso held bilateral talks with Downer later Saturday during which the ministers agreed to strengthen their joint efforts to stamp out terrorism and build their strategic relationship.

Rice left Australia Saturday for her return flight home.