A Chinese tycoon once worth more than US$360 million has been executed by lethal injection for having a man who tried to blackmail him killed, a court statement and news reports said Saturday.

Yuan Baojing and two accomplices were put to death by lethal injection Friday after a court in China's northeastern Liaoning province upheld a death sentence handed down last year, said a notice on the official Web site of China's courts.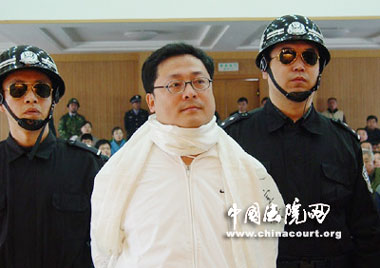 Yuan Baojing, escorted by court police, stands in a court room to hear the order for his execution in Liaoyang, northeast China's Liaoning province, March 18, 2006. [chinacourt.org]


A fourth criminal, Yuan Baofu, was sentenced to death, but the sentence was suspended for two years. That means the death sentence will be commuted to life imprisonment if he is a model inmate over two years.

The murder victim, Wang Xing, had helped the billionaire in the attempted murder of a businessman in southwestern China's Sichuan Province.

News photos in several Chinese papers showed a bespectacled Yuan, wearing a white track suit and a long white scarf, standing in front of the judge in the Liaoyang City Intermediate People's Court.

"I refuse to accept it. I will inform against someone," the Beijing Youth Daily quoted Yuan as saying after the judge announced the final decision.

Yuan appeared "very agitated" as he was escorted out of the court, and was executed about 15 minutes later, the paper said.

Yuan, 40, was convicted in January last year of hiring a hit man in a failed plot to kill a business partner who had caused Yuan's company to lose 90 million yuan (US$11 million; euro8 million) in futures trading, according to earlier news reports.

The man who found the hit man for Yuan then blackmailed him, and Yuan paid his brother and then his cousin to kill the blackmailer. The blackmailer was shot to death in October 2003.

The charge cited for the execution was "intentional murder," the Web site said. Yuan's brother, Yuan Baoqi, and cousin, Yuan Baosen, were also executed Friday, it said.

Yuan Baojing, a Liaoyang native, registered his Beijing Jianhao Industrial Development Company in Beijing's Huairou District in 1992, the Supreme People's Court reported.

Six months later, he made more than 2 million yuan (US$249,000) of profits. Then he invested in the securities and bonds markets before acquiring more than 60 companies. His assets were valued at more than 3 billion yuan as of 1996, the supreme court said.

He believed businessman friend Liu Han's manipulation of a broker caused him to lose nearly 100 million yuan in Sichuan Province, he told Yuan Baoqi and Wang at a Beijing hotel in late 1996.

Wang suggested punishing Liu. Yuan offered a reward of 160,000 yuan for murdering Liu.

Contract killer Li Haiyang fired two shots at Liu in a Sichuan hotel in February 1997. But the bullets missed Liu, and Li fled. Li was caught and sentenced to life imprisonment.

Starting from 1997, Yuan Baojing turned down Wang's requests to borrow money, and the latter threatened many times to blow the whistle on his crime of organizing the attempted murder.

In early 2001, Yuan Baoqi suggested killing Wang. Yuan Baojing agreed, and gave him 300,000 yuan to pay the contract killers. Yuan Baoqi found Yuan Baofu and Yuan Baosen.

On November 15, 2001, Yuan Baosen and Yuan Baofu stabbed Wang repeatedly, leaving him seriously injured, shortly after Wang left home. The duo fled.

Yuan Baoqi gave Yuan Baofu 90,000 yuan.

Wang continued threatening Yuan Baojing. Then Yuan Baoqi paid Yuan Baofu another 180,000 yuan to "finish the work."

Yuan Baofu and Yuan Baosen waited for Wang near midnight on October 4, 2003, when he left a majhong games shop in Lioayang. As Wang opened the gate to his apartment building, they shot him twice with a hunting rifle.

Yuan's wife Zhuoma, a well-known Tibetan dancer who goes by one name, was not allowed to be present at the execution, the Beijing Youth Daily said. She was seen sobbing in a car outside the execution site and later received Yuan's ashes from the courts, it said.

The couple have a 4-year-old son, according to an earlier report in the North Morning Post newspaper.