Chinese Premier Wen Jiabao promised a modest economic growth rate of eight percent for 2006, and a massive US$42 billion budget spending to improve the relatively weak rural sector and create another economic wonder in the populous countryside.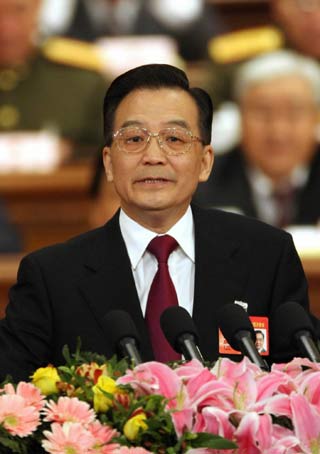 Chinese Premier Wen Jiabao delivers a speech during the opening of the National People's Congress at the Great Hall of the People in Beijing March 5, 2006. The Premier promised a economic growth rate of 8% for 2006, and a massive US$420b spending to improve the rural sector. [Xinhua]
The amiable and popular prime minister, in the eyes of millions of Chinese Internet readers, promised to implement the strategy of reinvigorating China through science and education, and an enlarged pool of high-calibre human resources.
On how to resolve the national reunification problem, Wen pledged that Beijing will adhere to the basic two principles of peaceful reunification and "one country, two systems", in which Taiwan could keep its present political, economic and social systems.
"We will unswervingly uphold the one-China principle and never give up our efforts to achieve peaceful reunification. We will never change the principle of placing our hopes on the people of Taiwan. We will uncompromisingly oppose secessionist activities aimed at Taiwan independence," Wen said in his annual government work report to the National People's Congress at the Great Hall of the People Sunday morning.
Major economic targets planned by the State Council, China's top governing body, are: GDP grows by about eight percent, energy consumption per unit of GDP falls by about four percent, inflation be kept under three percent, urban employment increases by nine million persons, urban registered unemployment rate be kept under 4.6 percent, and an equilibrium in imports and exports will be achieved.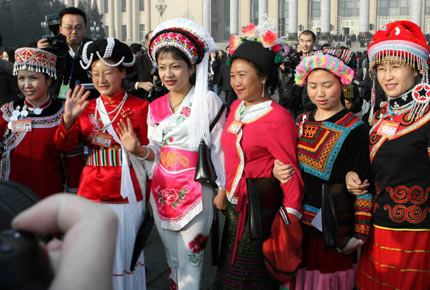 Ethnic minority delegates, dressed up in traditional costumes, arrive at the Great Hall of the People to attend the opening of the National People's Congress (NPC) in China's capital of Beijing March 5, 2006. [Xinhua]
On top of the government's economic work agenda this year, Wen said that the State Council will pay closer attention to the well-being of the people, trying to balanced economic growth between urban and rural areas, promoting fairness among the public, and "enable all our people to share in the fruits of reform and development".
Wen Jiabao also proposed an annual GDP growth rate of at least 7.5 percent during the 11th Five-Year Plan period (2006-2010). This indicates a projected target of doubling the per capita GDP of 2000 by the year 2010 to an estimated US$2,500.
There are rising worries that an income gap between the rich and the poor in China, partly a by-product of China's 28 years reform and opening-up efforts since 1978, is creating new social problems. But overall, China's government has made a miracle in improving the majority of Chinese people's livelihood, and China's GDP reached US$2.3 trillion in 2005, the world's 4th largest.
In 2006, China will continue to follow prudent fiscal and monetary policies in order to maintain a "fast yet steady" economic growth, Wen said. The economy will be powered by "a lot of activity in non-state (private) investment" and a rapidly rising domestic consumption, which worldwide China-watchers say will usher in a possibly the world's next largest market.
To build up this market, China's leadership has made a decision late 2005 to kick off another lofty plan which has caught the headlines of world press -- promoting the building of a new countryside, a crusade experts say would improve the well-being of 700 million Chinese farmers, and create thousands of modern towns well-connected with neighboring metropolises.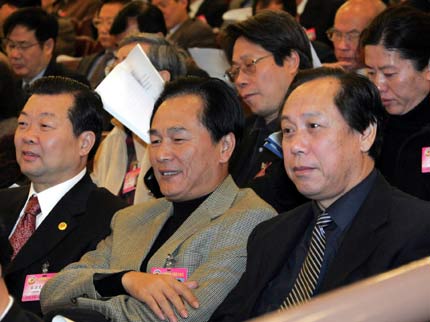 Cai Mingzhao (bottom, Center), vice-minister of the Information Office of the State Council listens to a government work report by Premier Wen Jiabao at the opening of the National People's Congress (NPC) in the Great Hall of the People to attend in China's capital Beijing March 5, 2006. [Xinhua]
Wen also pledged to accelerate development of an environment-friendly society.
Governemnts at all levels must strengthen ecological protection of water sources, land, forests, grassland and oceans, with emphasis on proventing and treating pollution in the watersheds of the Huaihe, Haihe, Liaohe and Songhua rivers, Taihu, Chaohu and Dianchi lakes, and the Three Gorges Reservoir area.
Realizing the role of scientific and technological advances in sustaining China's product competitiveness in world market, Wen said that his government will strengthen the national innovation system, and put forward a budget of nearly US$90 billion in 2006 for investment in the sector, a rise of 19.2 percent over 2005. He also said the State Council will increase a total of US$270 billion in the next five years for compulsory education from Grade 1-9.
Recently there is a voice questioning and criticizing China's 28-year reform, Premier Wen said the decision to implement the reform and opening-up policy constitutes a major policy decision "bearing on the destiny" of China.
He said that reform is now going through a very difficult period and he urged all officials to harden their resolve to accelerate all reforms and continue making progress in banking, state firms, taxation and other crucial system restructuring.
Premier Wen said that China needs to expand orderly citizen participation in politics, and guarantee the people are able to participate in democratic elections, decision-making, management, and oversight in accordance with the law.
"We will correctly handle conflicts of interest in society in the new period, and pay particular attention to solving problems reported by the people, and do a good job in handling people¡¯s petitions," Wen said.