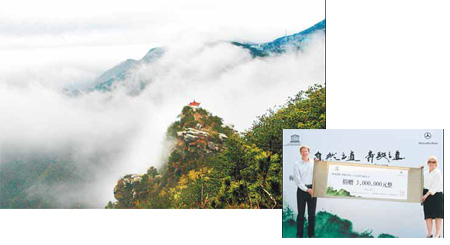 Klaus Maier (left), president of Mercedes-Benz (China) Ltd, presents the company's 3 million yuan donation to the United Nations Educational, Scientific and Cultural Organization (UNESCO) for conservation work at Lushan Mountain, a UNESCO World Heritage Site. File photo
The Mercedes-Benz brand stands for luxury worldwide, but the German carmaker also hopes to be known for conservation and environmental protection.
The firm launched its Green Legacy Program in 2007 with the theme, "Let Nature Take Its Course," as a long-term commitment to help protect China's treasured natural sites.
After donating tens of millions of yuan over the past two years to repair and restore the Sichuan Giant Panda Sanctuaries and South China Karst, as well as to restore sites damaged by last year's Sichuan earthquake, the car company this year is expanding its support to Lushan Mountain.
Mercedes-Benz (China) Ltd donated 3 million yuan this month to support local preservation work at the tourist attraction located in Jiujiang in northern Jiangxi province.
The project will involve sewage management work and restoration planning for historical villas at the United Nations Educational, Scientific and Cultural Organization (UNESCO) World Heritage Site.
"Long famous for its cultural and historical significance that blends into its natural beauty, Lushan Mountain is a perfect symbol of the harmony between humans and nature," Mercedes-Benz China President Klaus Maier said.
The mountain was granted status as a World Cultural Heritage site by UNESCO in December 1996.
"Lushan Mountain has formed a highly aesthetically valued cultural view closely relevant to the spirit of the Chinese people and their cultural life," UNESCO wrote at the time.
At 350 sq km in size, Lushan Mountain is one of the country's more famed mountains. The mountain is home to tens of thousands of plant species and thousands of villas with red roofs.
"To better preserve this beauty and maintain this harmony, Mercedes-Benz is proud and thrilled to make Lushan Mountain the third UNESCO World Heritage Site to benefit from donations as part of our Green Legacy Program," Maier said.
The company is one of UNESCO's key partners in China's World Natural Heritage Site preservation work, and also the first automaker to pledge long-term support to the cause.
"We will continue our support for the World Heritage Sites of the Sichuan Giant Panda Sanctuaries and South China Karst as we make another step in sustained efforts to ensure that these sites remain protected," Maier said.
Mercedes-Benz has a long history of integrating environmental protection with car manufacturing, developing environmentally friendlier vehicles in recent years to reduce carbon dioxide emissions.
Mercedes-Benz in late August introduced nine Generation S Class models in Beijing, including its S 400 HYBRID -the world's first series-production vehicle to feature a hybrid drive with a lithium-ion battery.
Labeled the "CO2 champion of the luxury class", the S 400 HYBRID has "a fuel consumption of merely 8.0 liters per 100 kms - just 188 grams per km", Mercedes-Benz reported.
Internally, Mercedes-Benz created a "Protect Nature: It Starts with Me" program that encourages employees to actively participate in environmental protection causes.
"We will continue to march shoulder to shoulder along this meaningful path and together achieve the perfect harmony between man, automobile and nature," Maier said.
(China Daily 09/28/2009 page10)