Startups lullaby adults with tech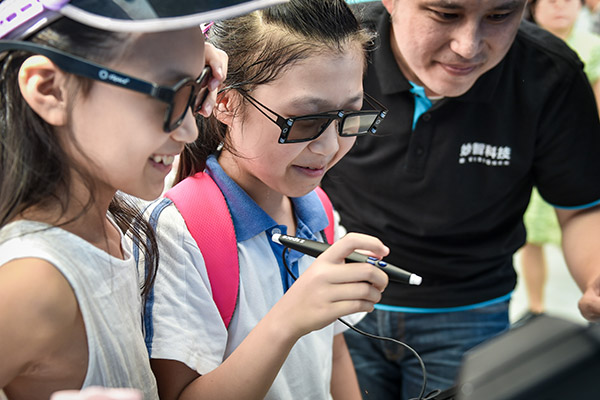 Children participate in a trial of an intelligent device capable of facilitating kids' learning and medical diagnosis recognition at a tech fair in Hong Kong. [Photo/Xinhua]
AI finds amazing applications in sleep products
China's new-age startups are combining artificial intelligence and big data technology to make smart products that help people sleep well and maintain a healthy lifestyle.
Intelligent pillows, smart sensors, intuitive lights, cool speakers, nifty headsets ... the list is growing longer by the day.
The segment is part of the global intelligent home products and services market whose annual sales are projected to reach $68 billion in 2018 on annual grow rate of 8 to 10 percent, according to Research and Markets.
In China, the fast-growing smart health products segment is estimated to clock sales of 140 billion yuan ($20.3 billion) this year, according to Feng Chao, an analyst at Analysys International in Beijing.
Small wonder, many startups are keen to make the most of consumer demand for such products.
For instance, Seblong Technology (Beijing) Co Ltd, a Beijing-based tech startup, is offering a new way for people to drift off to sleep, just the way they do listening to soothing music on a headphone before hitting the sack.
The firm's app-controlled smart pillow records sleep data and helps improve the quality of sleep.
Seblong has been engaged in research, development and sales of network security products since 2011. It entered the intelligent health gadgets segment in 2014. Its focus has been on sleep products.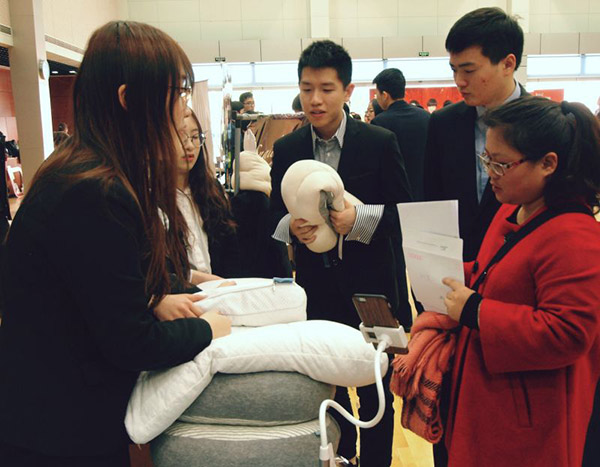 Employees from Seblong Technology (Beijing) Co Ltd introduce the smart pillow to customers at a fair in Shanghai. [Photo provided to China Daily]
Snail Sleep, its app, has been online for 17 months boasting more than 5 million users. In October 2016, its smart pillow project attracted 700,000 yuan in crowd-funding on JD.com, an online marketplace.
"With a built-in controller, the smart pillow can monitor people's sleep duration, depth of sleep, time of sleeping and waking. It can also record words uttered during a dream, in addition to the decibel level, duration and frequency of snoring," said Gao Song, Seblong's CEO and founder.
The pillow measures 40cm in width and 60cm in length, weighs 2.6kg, and is priced 799 yuan. Its built-in high-tech speaker helps users to drift off into sleep faster. It also helps them get a sound sleep by playing appropriate hypnotic music, Gao said.
The pillow uses Bluetooth technology, and stops playing music automatically as soon as it senses that the user has reached the deep sleep state.
"With the rapid development of intelligent home and healthcare industry, we hope to improve people's sleep quality through technology. Our latest sensor technology and excellent algorithms give us a deeper understanding of sleep," said Gao.
He said the firm has already mastered the use of big data technology to crunch data generated by the pillow continuously.
Now, the startup is planning to offer tailor-made products aimed at solving people's sleep problems. The larger goal is to facilitate a healthy lifestyle using artificial intelligence.
Gao said the firm will launch one or two intelligent hardware products this year. "More and more products in our daily life will become intelligent with the advent of the internet of things and we will keep up with the intelligence trend."
Other tech startups, too, are speeding up efforts to launch intelligent sleep products. Beijing Shiwu Technology Co Ltd already has the Lunar, a smart sensor to monitor sleep and help people sleep better.
The Lunar can record and analyze sleep patterns, especially of people experiencing difficulty falling asleep. It could also provide them with sleep advice, sleep music, hypnotic guidance and offline psychology courses.
The gadget comes with an elegant and beveled design in white, and weighs only 12 grams, as small as a pebble. Users can place the sensor under the pillow.
When users are unable to sleep, they can press the button to play sounds automatically suggested by experts, which will help users fall asleep.
Li Yizhou, founder and CEO of Shiwu Technology, said the factors that affect sleep include changes in light, temperature and sound. The firm's products are based on these factors.
"We had worked with psychological counseling service companies to offer products that relieve work-related pressures of China's post-1980s and 1990s generations. Now, the remote control function allows users to track the sleep condition of their family members, including children and the elderly," Li said, adding the smart home products will make use of the big data technology.
The Lunar is priced 69 yuan and is available on Xiaomi Corp's crowd-funding platform.
"I was attracted to the Lunar the first time I saw it. I'd like to buy one," said Lemon Zhao, a graduate from Beijing.
That's because Zhao, a jobseeker, has difficulty in getting a sound sleep these days due to jobhunt-related stress. She thinks the Lunar is affordable for students.
Shiwu has also developed the Solar, an intelligent lamp priced 799 yuan that creates an environment conducive to sleep by adjusting brightness automatically, based on data generated by the recorder of sleep.
Cheng Yu contributed to this story.