Overall sales slow, but patterns differ by sector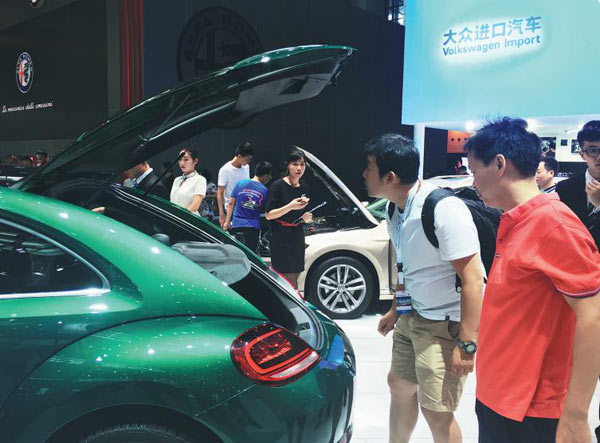 Visitors look at a Volkswagen car at the Shenzhen-Hong Kong-Macao International Auto Show in June 2016. [Photo by Li Fusheng/China Daily]
China's gigantic car market, which had been in the fast lane for years, is now hitting speed bumps, yet the country's leading industry association said it remains cautiously optimistic about the market this year.
A total of 13.35 million cars were sold in the first half of the year in the world's largest car market, statistics from the China Association of Automobile Manufacturers show.
Despite a 3.8 percent growth year-on-year, the growth rate was 4.3 percentage points lower than in the same period last year.
The passenger car segment had a poorer showing than the overall car market, according to the association. With 11.25 million cars sold from January to June, the segment edged a meager 1.6 percent.
The picture could have been even uglier without people's lasting enthusiasm for SUVs, for which sales soared nearly 17 percent year-on-year to 4.52 million in the first half of the year.
All other segments-sedans, multipurpose vehicles and minivans-saw sales fall, ranging from 3.2 percent to 25.3 percent.
Yet Chen Shihua, director of the CAAM's industry information section, said the situation is making a turn for the better, as evidenced by the June sales, which were up 5.6 percent from May to reach 1.83 million.
"Historically, sales in June are usually lower than in March to May, so the growth in June indicates that the negative effect of the car rush late last year is almost over," he said.
In late 2015, China introduced a 50 percent purchase tax cut on cars with engines no larger than 1.6 liters, which had prompted many to make earlier purchases before it was replaced by a smaller 25 percent cut starting this year.
Xu Haidong, an assistant to the CAAM's secretary-general, said the organization is cautiously optimistic about the car market.
One reason is that China has a huge demand for cars. Statistics from Guanghui, China's largest car dealer group, show that on average there are less than 150 cars per 1,000 people in China, far lower than in developed markets like the United States, which had more than 800 in 2015. Xu said the 25 percent tax cut, which is to expire by the end of this year, would create the same phenomenon seen last year, helping to push up car sales in the second half of the year.
"So the CAAM does not adjust the estimate made earlier this year that the market will finish the year with 5 percent growth," said Xu.
Premium market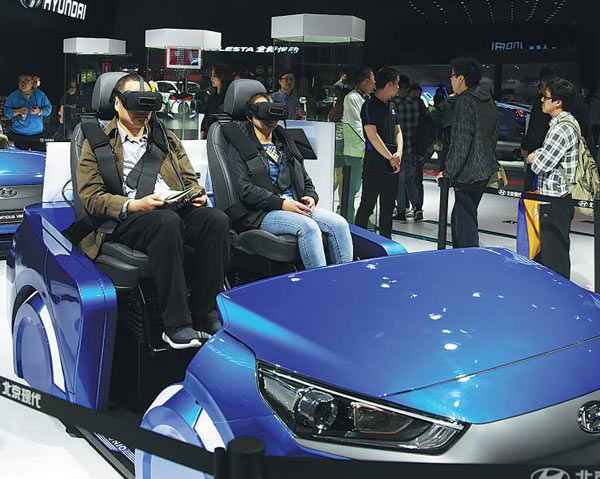 Visitors experience virtual reality technology in cars at this year's Shanghai auto show. [Photo provided to China Daily]
Surprisingly, premium brands stand unscathed in the overall sagging car market. In fact, most of them are making remarkable progress.
The top 10 best-selling marques saw combined sales of nearly 1.2 million cars in the first six months of this year, and eight of them saw double-digit growth rates.
Cui Dongshu, secretary-general of the China Passenger Car Association, said in addition to Chinese people getting richer, the growing number of lower-priced, entry-level premium cars offered are attracting customers.
Another important reason for their rising sales is discounts.
A report by the National Business Daily shows that some discounted models from premium brands are close in price to those from volume brands.
This sales growth is resulting in fiercer competition. Mercedes-Benz ranked No 1 by selling 304,017 cars in China, its largest market worldwide, posting a 34 percent growth rate year-on-year.
BMW came in second, which sold 10,000 fewer vehicles than its long-time rival in the same period.
Audi, which had been the sales champion until 2016, lagged far behind due to a half-year saga with its dealers starting in November, with some 40,000 fewer vehicles sold than BMW.
Analysts believe Mercedes-Benz and BMW will compete for the crown this year, while Audi, though almost certain to lose the title it has kept for decades, is expected to narrow the gap.
In June, Audi saw its sales grow 1.7 percent year-on-year, the first time it saw monthly growth this year.
Second-echelon marques' sales grew even faster. GM's Cadillac occupied fourth place by selling 81,000 vehicles in the first half of the year, seeing its sales soar 71 percent year-on-year.
Lincoln, Ford's premium arm, was the fastest-growing brand.
Its January to June sales totaled 24,500 vehicles, surging 97 percent year-on-year.
Chinese automakers are also doing a decent job. Statistics from the CAAM show that overall they delivered 4.94 million passenger cars from January to June, up 4.3 percent year-on-year, more than double the growth rate of China's passenger car segment as a whole.
As a result, they seized a 43.9 percent market share by the end of June, 1.1 percentage points higher than the same period last year.
Analysts believe that Chinese brands, with their improving quality and rich SUV lineups, have won over customers who would otherwise purchase South Korean brands, whose market share in the same period almost halved to 3.8 percent.
Chinese brands themselves are getting involved in fiercer competition.
Fitch Ratings expect some small, weak brands to see lower profit, while brands with competitive product offerings in the past twelve months, including Geely and GAC Motor, are likely to outperform in sales growth and profitability.
New energy vehicles are also gaining momentum.
In June, sales of electric cars, plug-in hybrids and fuel cell cars hit 59,000 vehicles, a 33 percent rise year-on-year, according to the CAAM.
In the first half of the year, such vehicles totaled nearly 200,000 vehicles, up 14.4 percent from the same period last year.
Sales in previous months were low because starting this year the authorities are compiling a new list of cars eligible for government subsidies, following the scandal of subsidy cheating that was exposed last year.
By July 6, 1,983 models have been put on the list, similar to the level of late 2016.
The overall situation is returning to normal and it is likely to reach the estimate of 800,000 vehicles the CAAM made at the start of the year, said Xu Yanhua, a deputy secretary-general of the organization.
Contact the writer at lifusheng@chinadaily.com.cn