Sustainable technology crucial to company's future development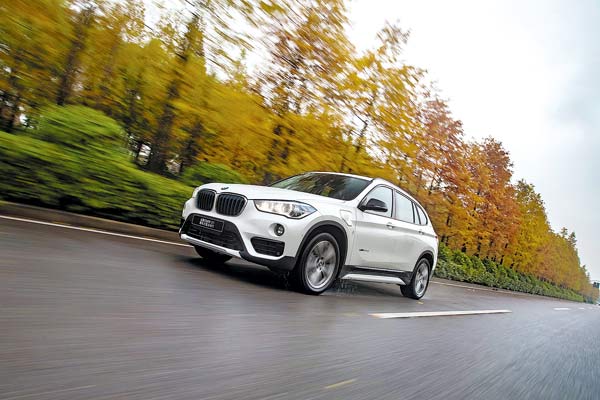 The fifth member of BMW's new energy family, the BMW X1 xDrive 25Le has a comprehensive fuel economy of 1.8 liters per 100 kilometers.[Photo provided to China Daily]
BMW Group is on the right track to become a leading force in e-mobility based on its innovation and technology in BMW i, said a senior executive of the company.
"BMW i remains our spearhead in terms of innovation and it will continue to open up groundbreaking technologies for the BMW Group," said Harald Kruger, chairman of the Board of Management of BMW AG.
"When it comes to electric drivetrains, we've already successfully managed to put this technology transfer on the road."
It will bring the next generation of electro-mobility into reality. By establishing the BMW i brand and developing a separate vehicle architecture and BMW eDrive technology for electric power, BMW becomes a pioneer in the field of individual and sustainable mobility. Both the BMW i3, designed for local emissions-free mobility in an urban environment, and the future-oriented plug-in hybrid sports car BMW i8 combine driving pleasure with a premium character that is consistently geared toward sustainability, including the use of resource-efficient production methods and materials.
The carmaker is driving innovation in its NEV technologies such as eDrive and carbon and laser light. EDrive is the most sophisticated and variable system, with perfect balance among safety, performance and driving range.
BMW is now fully committed to making contributions to e-mobility in China and aims to lead the industry.
As the forerunner in local NEV and PHEV production, it has the strongest product line-up offering in the premium segment in China with four locally produced NEV models since 2014.
The latest member of the BMW NEV family is the all-new BMW X1 xDrive 25Le, officially launched in March on the Chinese market. This is the third new energy vehicle developed by the joint-venture. The all-new BMW X1 xDrive 25Le is the first plug-in hybrid car in the premium compact SUV segment in China. Powered by electric and fuel, it generates an outstanding driving performance. Its electric power comes from the innovative BMW eDrive, originating from the BMW i brand and delivering a responsive and efficiency-optimized performance through the Intelligent Energy Management System, taking only 7.4 seconds to accelerate from 0-100 km/h.
The BMW xDrive intelligent technology system makes sure that powerful traction and driving safety is secured for driving in all weather conditions, as well as all road situations. BMW X1 xDrive 25Le is covered with warranty services for up to eight years or 120,000 km traveling distance.
The model is capable of 630 kilometers in combined driving distance to provide zero-emission travel for urban commuting or long-distance travel, while consuming as little as 1.8 L of fuel per hundred kilometers.
The electric motor and high-voltage battery pack plant in Shenyang, Liaoning province, will take on a leading role in NEV development to create top-quality products and complete the battery value chain for the Chinese market.