Explaining 'true China' can aid international cooperation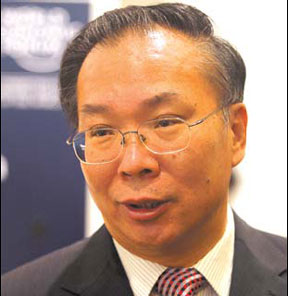 Wang Guoqing, vice-minister of the Information Office of the State Council. Zhang Wei / China Daily
TIANJIN - China needs to extend its soft power in a wide-ranging way to give the international community a better understanding of the country, said Wang Guoqing, vice-minister of the Information Office of the State Council.
"Only when we show the world the true China can it agree with our development pattern," Wang Guoqing told China Daily on the sidelines of the World Economic Forum summer meeting.
Wang said soft power refers to a nation gaining influence through its economic power, attractive culture and diplomacy.
"What's on the top agenda is to find a way accepted by other nations to tell China's story and help the international community understand," Wang said.
For decades, China has made great efforts to build its image on the international stage - not only economically, he said.
By the end of 2009, it had contributed 14,650 soldiers to United Nations peacekeeping operations. It has also been helpful on nonproliferation issues.
Some 282 Confucius Institutes and 272 Confucius classrooms had been established in 88 countries by the end of last year to teach Chinese language and culture. A total of 260,000 students were trained last year, an increase of 130,000 over the previous year, according the Confucius Institute's headquarters.
Its achievements in international business include establishment of 14,400 foreign-invested companies from January to July this year alone, about 18 percent more than the same period in 2009, the Ministry of Commerce said.
China surpassed Japan as the world's second-largest economy in the second quarter of this year. Economists believe it is "highly likely" to surpass Japan for the entire year.
Together with other major emerging economies, China has also demanded a greater role in major international organizations.
Wang's comments were echoed by Klaus Schwab, founder and executive chairman of the World Economic Forum (WEF), who said it a core interest of China to exert its soft power.
"China's voice should be better heard in the international community, but it is also very important for China to use its soft power, not only at official conferences, but also at unofficial meetings such as the WEF to help shape global opinion and global decisions," he told China Daily in an exclusive interview.
"I think it's very important that China plays an intensive and strong part in informal causes, exercising soft power, influencing decision makers and public opinion by presenting its legitimate views as a strong global power," Schwab said.