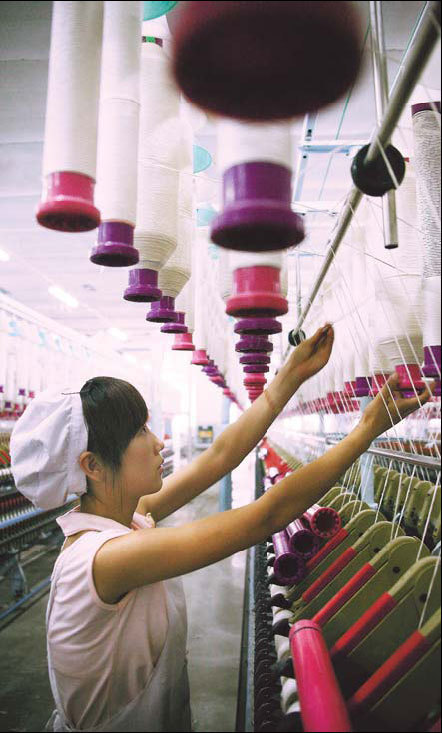 A textile factory in Anhui province. China's economy is expected to grow at a slower pace in the third quarter of this year, according to the latest report released by the State Information Center in early August.
While Europe and the United States have experienced an economic crisis of historical proportions, Asia appears to have emerged from the recent turmoil stronger than ever.
As its dominant economic force, China has been a key factor of this resilience. With growth of 8.7 percent in 2009, China accounted for a full 48 percent of overall growth in world GDP.
Indeed, China has now overtaken Japan to become the world's second largest economy. What has been driving China's impressive development?
For the past three decades, the World Economic Forum's annual competitiveness reports have assessed the many factors underpinning sustained economic growth and long-term prosperity.
Our research provides insight into the sources of China's economic success.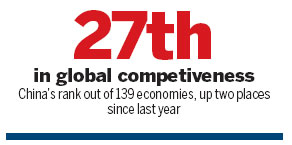 Competitive countries are those that have in place the institutions, policies, and factors that make them highly productive and allow them to achieve high and improving prosperity levels.
We take into account 12 different dimensions of competitiveness: public and private institutions, infrastructure, the macroeconomic environment, health and primary education, higher education and training, goods market efficiency, labor market efficiency, financial market development, technological adoption, market size, business sophistication, and innovation.
The continued improvement in China's performance in the recently released Global Competitiveness Report reflects its achievements in a number of these areas.
Up two places since last year, China now ranks 27th out of 139 economies, well ahead of other large emerging economies, including Indonesia (44th), India (51st), and Brazil (58th).
A secret of China's success has been its ability to get the basic foundations of competitiveness right.
First, China has been buttressing its human resources base. Public health has been improving, as reflected in falling infant mortality rates, a reduced burden of diseases, and longer life expectancy.
In addition, primary education has become almost universal and its quality has been improving, now on a par with countries such as Germany, South Korea, and the United States.
Second, sustained strong growth and large trade surpluses combined with good fiscal management have created a stable macroeconomic environment, a critical enabler of business and investor confidence.
Third, significant investments in transport, energy and communications infrastructure have buttressed the boom of the manufacturing sector.
Finally, the quality of public institutions has been improving, with better intellectual property protection and enhanced government efficiency, thus creating a more conducive environment for doing business.
China's productivity is further boosted by the large economies of scale that the sheer size of the Chinese market generates.
As well as excelling in such basic areas, Chinese businesses are already relatively sophisticated and innovative, particularly given the country's stage of development.
China now ranks 9th worldwide for the rate of patenting for invention, ahead of such innovation powerhouses as Finland, Israel and Switzerland.
Despite this generally positive picture, China should not remain complacent.
As the country moves into more advanced development stages, it will need to continue to improve in a number of areas in order to ensure continued rapid growth.