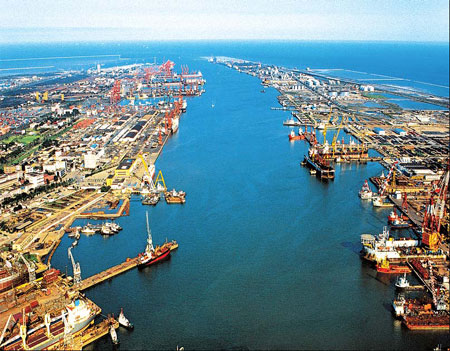 With large investment in the pipeline, Tianjin Port is on its way to be a shipping hub in north China. [Provided to China Daily] 
Cargo throughput to exceed 400 million tons this year
TIANJIN - Tianjin Port's total cargo throughput is expected to reach 400 million tons - including 10 million containers - this year, up from 380 million tons in 2009, said Yu Rumin, chairman of Tianjin Port (Group) Co Ltd.
The port is also considering an investment of 13.2 billion yuan ($1.95 billion) in the construction of new ports and other infrastructure projects, he said at the Summer Davos Forum in Tianjin on Monday.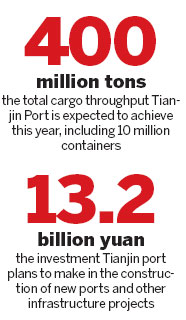 Tianjin Port, located in Tianjin's Binhai New Area, is the third-largest port in China, and the world's fifth-largest.
According to Yu, the State Council has a blueprint to make Tianjin Binhai New Area an international shipping center and logistics center.
"The port should be built into one like Rotterdam or Antwerp, with a port hinterland, a large stock of goods for transportation, plenty of ships passing through it and a great many shipping enterprises registered there," he said.
"Tianjin Port's total cargo throughput exceeded 230 million tons, including more than 5.6 million containers, from January to July this year," said Yu.
"We are confident of achieving this year's target (400 million tons of total cargo throughput, including 10 million containers) so long as the overall economic situation does not worsen too much in the remainder of this year."
Tianjin Port is a major hub for international trade in northern China and a gateway to the sea for many Chinese businesses.
Tianjin Port officially started to offer homeport services for international cruise liners on June 26 this year.
Diversified business
Besides its port business, Tianjin Port will also develop logistics, real estate in port areas, and the financial industry.
"Tianjin Port will provide better services for cargo owners and shipping companies through developing international logistics. We will construct a logistics network which could cover all the hinterlands, and, to that effect, we have built 16 dry ports," Yu said.
"In addition, our real estate projects are different from those of other companies. They will focus on providing support for port-related industries such as logistics and manufacturing."
Tianjin Port attaches great importance to the financial industry, Yu said. Tianjin Port has its own fund management company, and it will invest in financing, tenancy and trust-related businesses.
"Tianjin Port is the city's biggest comparative advantage and has core resources. Tianjin government is committed to accelerating its infrastructure construction and expanding its functions," Yu said.
The port was listed on the Shanghai Stock Exchange in 1996. The share price of Tianjin Port gained 0.91 percent to 8.9 yuan as of the 11:30 am break on Monday.