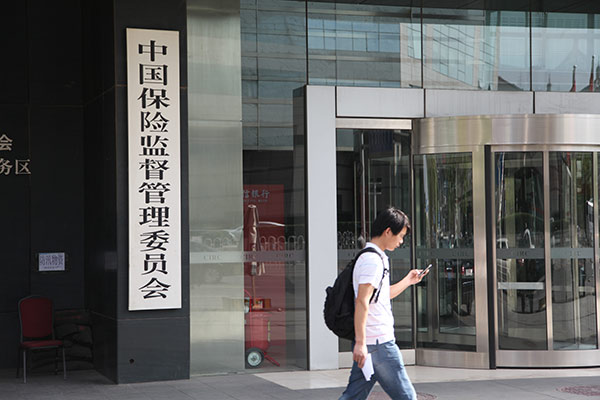 A visitor checks his cellphone at the gate of the China Insurance Regulatory Commission. [Photo/Liu Yuanrui, China Daily]
China's insurance regulator is strengthening norms to prevent insurers from turning into financing platforms of their major shareholders.
The China Insurance Regulatory Commission released a statement in July that it will strengthen insurers' equity information disclosures.
It said insurers should disclose stock transfer information within 10 days on their websites.
"This is a move to improve the transparency of equity management of insurers and guarantee that their funds are legal and effective," the CIRC said in the statement.
It also said in March that insurers should stop selling products like universal life insurance with shorter than one year tenures. The short- and medium-term insurance products whose duration is shorter than three years should be gradually decreased, it said.
Universal life insurance is flexible, permanent, and offers low-cost protection as well as savings, which are invested to build up cash.
Yuan Xucheng, director of the Life Insurance Supervision Department at CIRC, said short- and medium-term insurance products developed fast in China, but some companies may face risks like asset-liability imbalance, misselling of products and cash flow problems.
For instance, Chinese property developer Vanke complained to the CIRC in July that its largest shareholder, the Baoneng Group, took advantage of its insurance assets to "illegally" grab the lion's share of asset management plans. The case is yet to be decided.
Many of Baoneng's asset management plans are linked to short- and medium-term products like universal life insurance, according to the company.
Xiang Junbo, chairman of the CIRC, emphasized in August that insurers should be risk managers rather than risk makers.
Shareholders in insurers who seek to convert funds raised through selling of insurance products into low-cost finance will be liable for punishment as per existing law and regulations, Xiang said.
Steven Lam, a life insurance analyst at Bloomberg Intelligence, said the CIRC has acted promptly in this context and may also pay attention to insurers' solvency.
In the January-June period, premiums of Chinese insurers reached 1.88 trillion yuan ($287.9 billion), up 37 percent year-on-year.
In the same period of last year, the corresponding growth rate was 20 percent; and 17.5 percent in the first half of 2014, according to the CIRC.