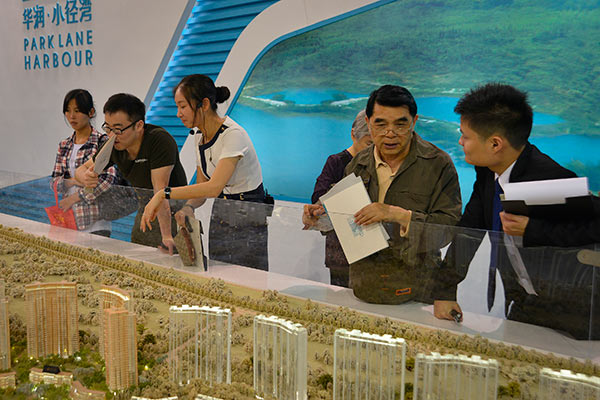 Potential homebuyers inquire about a housing project at a property expo in Shenzhen, Guangdong province. Chai Shijue / For China Daily
HK-listed unit of conglomerate bullish on mainland property market prospects
China Resources Land Ltd, the Hong Kong-listed property flagship of mainland conglomerate China Resources (Holdings) Ltd, is bullish on property market prospects given the assumption that supportive government policies remain.
The group posted a 19.1 percent hike in profit attributable to shareholders, including investment property revaluation gains, to HK$7.68 billion ($991 million) in the first half of 2016.
Its total consolidated revenue gained 19.9 percent to HK$44.52 billion, but net profit margins edged down 0.1 percentage point to 17.3 percent compared with the same period last year.
During the reporting period, the company achieved contracted sales of 55.57 billion yuan ($8.56 billion) with a gross floor area of 4.3 million square meters, up 50.2 percent and 32.1 percent on a year-on-year basis, respectively.
"Looking into the second half of 2016, the company expects the mainland economy to maintain steady growth. From a nationwide perspective, a moderate policy stance for the overall property sector shall remain," Vice-Chairman Tang Yong said at a Friday news conference in Hong Kong.
"The sector shall benefit from supportive policies including acceleration in urbanization, further Hukou (household registration) reform as well as the two-child policy," Tang added.
CRL's share price in Hong Kong gained 3.87 percent to close at HK$21.45 on Friday.
To further bolster business development, CRL's parent company CRH injected its business assets into the property flagship company for the 10th time.
The asset injection includes the entire interest in the Shenzhen Bay project, which is a mix-use integrated development project located near to Nanshan district, including four high-rise residential buildings, a stylish hotel operated under the Andaz brand, luxury serviced apartments, and a modern shopping mall.
The injection also includes 23 car park projects on the mainland. Among which, 13 projects are self-owned properties while the remaining 10 projects have operating rights or management rights.
CRL will utilize internal resources to pay 6.23 billion yuan to acquire all these projects, at a purchase price representing a discount of 30.3 percent to the projects' adjusted net asset value of 8.94 billion yuan.
The developer launched property pre-sales for its Shenzhen Bay project at the end of 2015, enabling CRL to realize contracted sales of a gross floor area of 37,000 sq m, achieving contracted sales of 4.2 billion yuan as at June this year.
CRL has targeted total contracted sales reaching 92.9 billion yuan for 2016, about the same level that has been recorded in 2015, Tang said.
As of June 30, the developer's total land bank amounted to 42.09 million sqm.