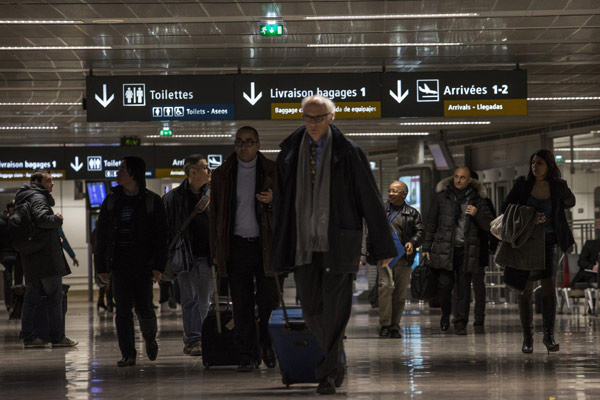 Passengers exit the airport terminal at Toulouse-Blagnac Airport in Toulouse, France. [Photo/Agencies]
The Shandong provincial government has approved the acquisition by Shandong Hi-speed Group Co Ltd of a 49.99 percent share in Toulouse-Blagnac Airport, the fourth-largest in France, for 308 million euros ($326.39 million).
The Shandong Development and Reform Commission released the specific acquisition program on its official website early this month.
Shandong Hi-speed Group, a State-owned investing and operating company involved in the road, rail and maritime transport segments, together with Friedman Pacific Asset Management Ltd, a Hong Kong-based investment company, formed a consortium to complete the acquisition, according to the local government's announcement.
The French government and authorities will retain a 50.01 percent stake in the airport. France chose the Chinese consortium from among a field of bidders in late 2014.
"The consortium has the ambition to develop the airport, based on the dynamic and attractive regions of Toulouse," said a statement released by French officials in December.
Employment and airport traffic are forecast to increase after the acquisition, it said.
The consortium has taken into consideration the long-term interests of the European aircraft builder Airbus SAS, which is based in Toulouse, the statement said.
The question was whether the acquisition would limit Airbus' capacity to expand production or raise its costs of using the airport.
Airbus has said that the decision on the new shareholding of Toulouse airport does not affect its flight operations activities at the airport.
Passenger throughput at the airport was 7.5 million in 2013, with cargo shipments of 60,000 metric tons, according to its annual report. Total assets were about 317 million euros that year, with operating revenue of 117 million euros.
China's strong outbound tourism market and the euro's weakness are prompting Chinese companies to invest in transportation infrastructure in Europe, experts said.
Statistics from the French tourism authority show that 1.7 million Chinese travelers visited France in 2013. Inbound arrivals from China were estimated at 2 million in 2014.
"As a State-owned company, Shandong Hi-speed Group's acquisition may make it easier for Chinese carriers to launch routes from Shandong province to Toulouse, since plenty of Chinese local governments are interested in international routes", said Li Xiaojin, a professor at the Tianjin-based Civil Aviation University of China.
As a builder and operator of high-speed transit, Shandong Hi-speed Group may look into more opportunities for high-speed road development in France, Li said.