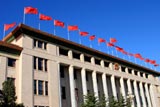 The Central Economic Work Conference has been held regularly at the end of every year since 1994.

It is the country's highest economic meeting, held by the Central Committee of the Communist Party and the State Council.

Leaders at the conference review the country's economic works in the past year, and maps out economic plans for the coming year.