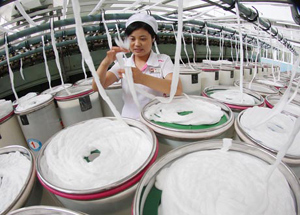 SMEs need to have more than courage
To date, China has over 50 million small- and medium-sized enterprises (SMEs), which account for 80 percent of the country's jobs, 60 percent of gross domestic product (GDP) and half of the national tax revenue, according to the Ministry of Commerce.
One of the important factors for businesses' survival is the availability of a healthy cash flow. Yet for SMEs, maintaining a positive cash flow is often far from their reach.
Despite government measures to assist SMEs, the amount of funding and further tax reductions continue to nag officials. [Full Story]
More Stories
Growth of SME loans outpaces credit to large firms
SMEs see higher industrial output growth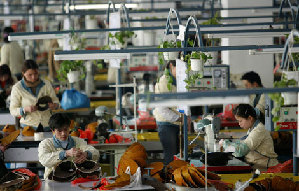 SMEs facing financial strains in Wenzhou
Small- and medium-size enterprises (SMEs) in Wenzhou are faced with severe cash-flow problems as they find it hard to access bank loans or personal loans due to tight lending policies.
"A recent survey found that over 70 percent of 1,000 enterprises in our association have severe financial problems and only a few managed to get enough money to finish orders," said Zhou Dewen, the head of the Wenzhou Small- and Medium-sized Enterprises Promotion Association.
Zhou said many enterprises are borrowing money from all available sources to keep their businesses running and to fulfill orders from their clients.
Many SMEs are borrowing money from the gray market private money lenders for short-term financial needs.[Full Story]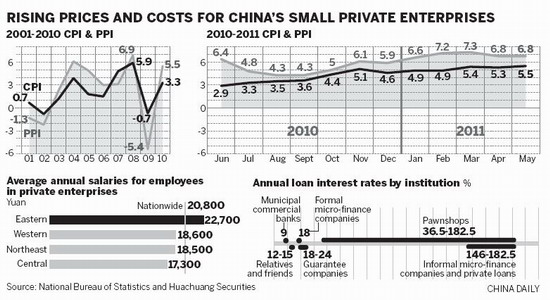 Small firms, big problems as costs rise
The rapid rise in labor costs and the soaring price of raw materials, together with the increasing cost of borrowing, has left small and medium-sized businesses (SMEs) there facing a dilemma.
In June, inflation in China showed no signs of abating. The consumer price index, the main gauge of inflation, rose to 5.5 percent in May, and when the figures for June are released in the middle of next month, they're expected to confirm another increase.
Moreover, the Producer Price Index, which reflects changes in the prices of raw materials and other costs, came in at 6.8 percent in May, down from 7.3 percent in March, but still much higher than in September, when it was 4.3 percent.
Meanwhile, the authorities have cracked down on lending and the money supply to combat inflation, a move that has further increased the pressure on China's capital-thirsty small businesses. To make ends meet, some businesses have even been forced to use underground financing sources, which charge exorbitant interest rates. Moreover, wages have been rising continually in recent years, adding to corporate costs. [Full Story]
More Stories:
Soaring CPI puts squeeze on manufacturers
Small manufacturers shudder at rising costs
Improved access to loans not a cure-all for small firms
Labor secretary warns of strict enforcement for wage law

China adds micro-business category
China's top economic regulators subdivided categories of small- and medium-sized enterprises (SMEs) by adding a "micro-sized enterprises" category, the Oriental Morning Post reported on Tuesday.
The new category standard was released on July 4, by the National Development and Reform Commission, National Bureau of Statistics, Ministry of Finance, and Ministry of Industry and Information (MIIT). The standards are designed to help SMEs with preferential policies.
Zhu Hongren, a chief engineer at MIIT, said creating new categories for small, medium-sized and micro-sized enterprises will make it easier for the government to collect data and also help SMEs to provide more jobs.[Full Story]