XI'AN - More than 1,000 low-wage residents in Xi'an, capital of Shaanxi province, waited in line for four days and three nights, in order to register for low-income housing on Sunday morning.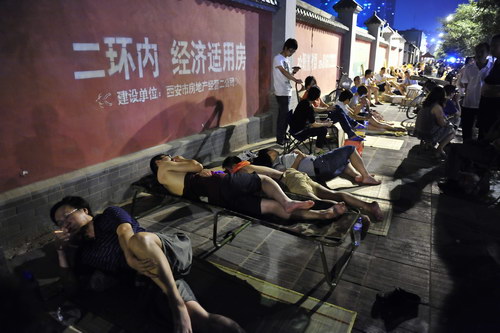 People wait in line outside the sales office of an affordable housing project on Mingguang Road in Xi'an, capital of Shaanxi province, at 11 pm on June 30. [Photo/China Daily]
"I got the message about the affordable housing project at about 8 pm on June 30 and found there were some 100 people in line outside the project sales office. I immediately joined them," said a 45-year-old man, surnamed Tian.
A happy Tian handed over his information to the sales office at about 8 am on Sunday along with more than 1,000 other residents who had all waited outside the office since June 30.
Those waiting in line ate and slept outside the sales office.
"In order to prevent people jumping the queue, we had to stay there day and night," said a resident, surnamed Min.
Related readings:


 China uncovers misuse of affordable housing program


 Local financing approved for affordable housing


 More land opened up for affordable housing


 More affordable housing
According to Min, she had hoped to buy an affordable house last year, but was told the houses were sold out after she passed the review by the local housing authority. "I did not want to lose the chance a second time," Min said.
The new residential project for low-and-medium wage earners is called Sunshine North County, it is located in a northern suburb of the city and was designed and developed by Xi'an Municipal Real Estate Business No 2 Company.
According to Zhou Xiaoru, marketing director of the project, the sales office received about 1,000 applications for the affordable housing and they will now check the applicants qualify for low-income housing.
"We will make order numbers for those applicants who qualify for the affordable housing and then let them choose a house according to their order number," Zhou said.
The first phase of the project will provide some 700 houses and the company will advance the schedule of the second phase if the number of eligible applicants exceeds the houses provided in first phase. The second phase is due to be completed in 2014 when more than 2,800 affordable houses will be provided.
According to Zhou, the price of the affordable houses is expected to be 3,500 yuan ($541) per square meter, while the average price of real estate in the city was 7,299 yuan per sq m in June.
Hu Guangjie, director of housing ensuring division of Xi'an Housing Ensuring and Management Bureau, said that only those residents who have no house, or a house less than 45 sq m, and earn a low wage can apply for the affordable housing, which was funded by the local government.
Xi'an will increase the total floor area of affordable housing to 1.5 million sq m this year, up from 613,500 sq m last year.