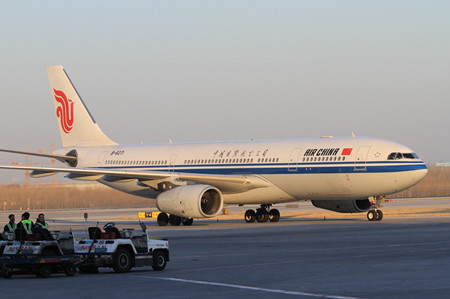 Air China Ltd, the country's biggest international carrier, climbed 6.4 percent to 9.88 yuan ($1.53) on Friday, the most in eight months after oil slumped. [Photo/For China Daily]
China's stocks rally as Premier Wen says inflation is under control
SHANGHAI - Stocks on the Chinese mainland rallied the most in four months on speculation the central bank will refrain from raising interest rates after Premier Wen Jiabao said efforts to stem inflation have worked.
Industrial and Commercial Bank of China Ltd led a gauge of financial companies higher by 2.9 percent as money-market rates dropped for the first time in eight days. Citic Securities Co climbed 8.6 percent. Air China Ltd advanced the most in eight months after oil slumped. SAIC Motor Corp jumped to a two-month high as the National Business Daily said government agencies are seeking to remove limits on vehicle purchases.
Related readings:


 ChiNext Index closes up -- June 24

 China stock index futures close up -- June 24


 China stocks close higher Friday


 Benchmark gains most in 3 months

"The premier's remarks are a catalyst for the market rally, giving investors confidence that inflation may ease in the near future," said Li Jun, a strategist at Central China Securities Co. "It turns sentiment from pessimistic into positive."
The Shanghai Composite Index, which tracks the bigger of China's stock exchanges, added 58 points to 2746.21 at the 3 pm close, the biggest gain since Feb 14. It has advanced 3.9 percent this week, the most since the five days ended Nov 5. The CSI 300 Index rose 2.4 percent to 3027.47.
The Shanghai gauge has slumped 10 percent from this year's high on April 18 on concern that government measures to cool inflation will slow economic growth. The central bank has raised reserve requirements 12 times and interest rates four times since the start of last year. The stock index has lost 2.2 percent this year, dragging down average estimated price earnings to 12.8 times from 15.9 times at the end of 2010.
"There is concern as to whether China can rein in inflation and sustain its rapid development my answer is an emphatic yes," Wen wrote in an opinion piece in the Financial Times newspaper. "China has made capping price rises the priority of macroeconomic regulation and introduced a host of targeted policies. These have worked. The overall price level is within a controllable range and is expected to drop steadily."
The government is curbing credit growth to tame the surge in consumer prices that pushed inflation to a 5.5 percent last month, the highest level since July 2008.
China's money-market rate declined on Thursday, snapping a seven-day advance. The seven-day repo rate fell 63 basis points to 8.41 percent as of 4 pm, according to a weighted average rate compiled by the National Interbank Funding Center. It touched 9.20 percent earlier, the highest level since October 2007.
A gauge of financial companies including banks and brokers was the second-biggest riser among the 10 industry groups in the CSI 300.
Citic Securities, China's biggest brokerage, jumped 8.6 percent to 13.28 yuan ($2.05), the biggest gain since Feb 14. Haitong Securities Co advanced 6 percent to 8.96 yuan. Trading volumes on the Shanghai index rose to 7.3 billion on Thursday, up 26 percent from the previous session.
Air China, the biggest international carrier, climbed 6.4 percent to 9.88 yuan, the most since Oct 25. China Southern Airlines Co advanced 7.8 percent to 7.90 yuan. China Eastern Airlines Corp jumped 4.6 percent to 5.21 yuan.
The Standard & Poor's GSCI index of 24 commodities dropped 3.6 percent on Thursday, the most since May 11. Crude oil for August delivery fell 4.6 percent to $91.02 in New York. Futures have risen 19 percent in the past year.
Commodities tumbled on Thursday as the International Energy Agency announced plans to release emergency crude-oil supplies, and US jobless claims rose more than forecast, signaling a fragile US economy.
China's stocks have gained this week on increased government support for alternative energy production and affordable housing.
Local government financing vehicles will be allowed to sell bonds to fund the construction of low-cost homes, according to a notice on the website of the Anhui province branch of the National Development and Reform Commission on June 16.
The nation will invest 400 billion yuan in hydroelectric dams, the China Daily reported on Thursday, citing Han Wenke, director of the Energy Research Center of the Natioinal Development and Reform Commission (NDRC).
Some real estate developers in China have applied to the NDRC to sell bonds, the 21st Century Business Herald reported on Friday, without saying where it got the information.
The NDRC and other government agencies are seeking to change or remove the country's purchase limits on vehicles in a report to the State Council, National Business Daily reported, citing an unidentified official at the China Association of Automobile Manufacturers.
The association's deputy head Dong Yang denied the newspaper report on Friday, saying "there's no such thing" in a phone interview.
Bloomberg News