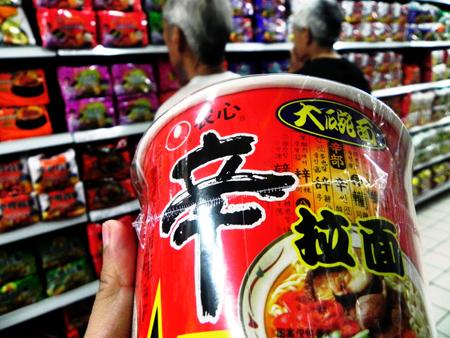 South Korean brand Nong Shim instant noodles are put back on shelves in Hangzhou, Zhejiang province, after a third-party test found no traces of cancer-causing plasticizer DEHP in the product. [Photo / China Daily] 
SHANGHAI - The Japanese and South Korean brands of instant noodles made in China, which were suspected of being tainted with plasticizers DEHP, are now back on supermarket shelves following the release of authoritative test results.
Earlier this week, supermarkets across the country stopped selling instant noodles, such as Japanese brand Nissin Taisho Japanese-style fried noodles and South Korean brand Nong Shim spicy mushroom noodles, after Hong Kong Cable TV reported that excessive amounts of the cancer-causing plasticizer DEHP were found in the Chinese-made instant noodle brands in Hong Kong.
However, the results from a variety of independent tests have all given the noodles the all-clear.
According to a statement from Shanghai Nong Shim Food Company, test results from CTI, a third-party provider of testing services in Shanghai, showed that no DEHP was found in the noodles.
"Test results found no plasticizers in our products," said a woman surnamed Zhou, who is a staff member in the marketing department of Shanghai Nong Shim Food Company.
"We took a series of active measures and sought authoritative third-party tests after Hong Kong media reported our products were tainted with plasticizers," she said.
Zhou said the company has already sent the test reports to related stores and supermarkets, such as Carrefour, and Nong Shim instant noodles will return to shelves very soon.
Meanwhile, the Hong Kong's Center for Food Safety released the test reports on 18 types of instant noodles, including the Nong Shim spicy mushroom-flavored noodles, on its website, and said it did not find DEHP in any of the products.
Related readings:


 S China city recalls DEHP-tainted green tea powder


 Mainland bans 948 DEHP-tainted products from Taiwan


 Import ban stepped up on DEHP-tainted products
The Shanghai Municipal Bureau of Quality and Technical Supervision also said samples of Nong Shim instant noodles were clear of any DEHP.
Likewise the Agri-Food and Veterinary Authority of Singapore (AVA) also said on its website that there had been "no phthalate contamination detected in Nong Shim and Nissin instant noodles".
An employee with Carrefour Shanghai told China Daily that it has resumed sales of Nong Shim instant noodles after it received the authoritative DEHP-free test report.
While a staff member from the Shanghai branch of the Japan-based Nissin food company said the sales of the company had not been affected by the adverse publicity.