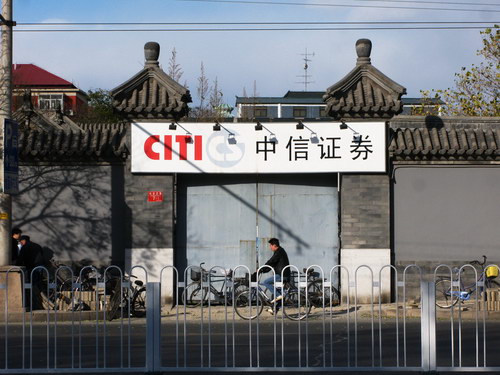 The sales department of Citic Securities at Beijing's Ping'an Avenue. The broker will take a 19.9 percent stake in Credit Agricole SA's CLSA and Cheuvreux brokerage brands. [Photo/China Daily]
HONG KONG/PARIS - China's largest listed brokerage Citic Securities Co Ltd will pay $374 million for a stake in Credit Agricole SA's CLSA and Cheuvreux brokerage brands, the latest push onto the global stage by China's emboldened financial sector.
Citic will take a 19.9 percent stake in both units, with regulatory approval expected by the end of this year, the two firms said, concluding more than a year of talks.
"It's probably a good idea for Citic to take a small stake first, seeing how uncertain market conditions are right now," said Wang Mingfei, an analyst at Orient Securities in Shanghai.
"Once things have settled down, it can then look at how things are going with the stake there and decide whether to expand its presence."
Related readings:


 Citic Securities reports 26% rise in 2010 profits


 CITIC to raise $322m in rights share issue


 Citic shares advance on news of IPO plan in Hong Kong


 Citic to acquire Sydney gold firm
Citic's latest purchase aims to unite the pan-European Cheuvreux with the more Asia-focused CLSA to tap into investment banking opportunities in the east and create a global brokerage platform, said Credit Agricole and Citic.
The Chinese company has been at the forefront of a push to internationalize the domestic financial sector, having itself chosen an all-Chinese slate to manage its $3 billion Hong Kong share sale.
Asked about its longer-term strategy, Credit Agricole said it had no plans to later exit the business, according to the head of Agricole's coporate and investment banking in a newspaper interview.
"We will definitively stay as a shareholder of this company. Having a brokerage offering is key," Jean-Yves Hocher told the French daily Les Echos.
Many Chinese bankers working for domestic banks have cheered Citic's move as a coming of age for their home team, saying it is a demonstration of how far the banks have come since the first Chinese company, Tsingtao Brewery Co Ltd, listed in Hong Kong in 1993.
To increase their international stature, Chinese banks have been actively taking part in deals far away from their home turf, with ICBC International Holdings Ltd among the banks mandated for a new share issue by the Brazilian oil giant Petrobras SA. They have also been actively hiring overseas, with CCB International Ltd setting up offices in Dubai, London and New York, its chief executive Hu Zhanghong told Reuters in an interview last month.
"If Chinese banks are only in Hong Kong, that's a single dot," said Lin Yong, chief executive at Haitong International Securities Group Ltd. "When they expand to Singapore, that's a line. We'll need to expand to New York and London, and that's when we have a real network."
China's securities companies have always had protected status in the country, with Beijing eager to keep foreign players out until its own companies are ready to compete effectively against them. Foreign banks, including Goldman Sachs Group, UBS AG and Deutsche Bank AG, have licenses to operate a Chinese securities firm through joint ventures where they own one-third of the enterprize.
"This has partly got to do with national policy," said Frank Song, a professor of China financial research at Hong Kong University. "China wants its own securities industry to grow."
The investment banking arms of Industrial and Commercial Bank Ltd, China Construction Bank Corp, Bank of China Ltd, Agricultural Bank of China Ltd and Bank of Communications Ltd will be joint bookrunners for Citic's share sale.
The deal also comes as Credit Agricole SA embarks on a four-year plan to focus on retail banking in France and abroad to boost growth after the global financial crisis cut short a push into investment banking and complex financial products.
Some analysts expressed surprise at the small size of the deal after earlier reports estimated the transaction at over $3 billion. However, a source familiar with Credit Agricole's thinking said the bank saw the deal as just a "first step" that would lead to further developments, although the source added that Citic is unlikely to raise its stake in the brokerages.
"This is probably not the only thing that Citic Securities is doing to internationalize itself," said Wei Tao, an analyst at China Securities.
"They'll gain some experience from this, and we may see more tie-ups with other financial companies in the future."
Brokerage business in Asia, outside of protected markets, is already very competitive with thin margins, and has typically been dominated by local players such as Taiwan's Yuanta Securities Co Ltd and Singapore's Kim Eng Securities Pte Ltd.
Reuters