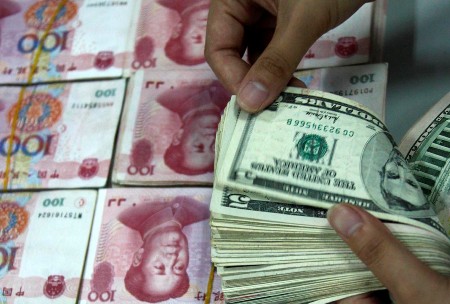 The US federal budget deficit is expected to reach $1.4 trillion this year and to remain high for several years. [Photo/for China Daily] 
BEIJING - China should guard against risks from "excessive" holdings of US assets because Washington could pursue a policy to weaken the dollar, a senior currency regulator said in comments published on a website that briefly pushed the dollar lower.
Related readings:


 China seeks assurance on assets in US


 Beijing expected to push for stable dollar and market access


 China's forex reserves suffers huge losses from weak dollar


 Weak dollar not a concern for China reserves

However, the comments by Guan Tao of the State Administration of Foreign Exchange (SAFE) were quickly removed from the website at his request. He told Reuters the comments had been made in private academic discussions and represented his personal view only.
"We must be alert to economic and political risks in excessive holdings of US dollar assets," said Guan, head of the international payment department at SAFE, in the article on the website of China Finance 40 Forum, a Beijing-based think tank of Chinese economists, bankers and officials.
"The United States has taken an expansionary fiscal and monetary policy to stimulate economic growth, and the United States may find it hard to resist the policy temptation of weakening the dollar abroad and pushing up inflation at home," he said.
The dollar, broadly lower on the day because of market concerns about the health of the US recovery, edged slightly lower after Guan's remarks. It hit a one-month low against a basket of currencies and the euro and a record low versus the Swiss franc.
Chinese officials have blamed ultra-loose US monetary policy for fuelling global inflation and asset bubbles but they tend to be less vocal about China's huge holdings of US assets for fear of roiling the currency market.
At times though, top Chinese officials, including Premier Wen Jiabao, have publicly called on the United States to ensure the safety of Chinese holdings of US assets.
The US federal budget deficit is expected to reach $1.4 trillion this year and to stay high for several years. Congress is locked in tense negotiations over a deal to reduce the deficit and raise the $14.3 trillion debt limit under pressure from ratings agencies.
The deficit was built up in reaction to the global financial crisis, when the Federal Reserve also relaxed its monetary policy. Rates are virtually zero and the central bank has pumped cash into the economy by buying bonds, a program that is due to end this month.
China has never published its holdings of US Treasuries, but some economists have said that as much as 70 percent of the country's foreign exchange reserves, which hit a record $3.05 trillion at the end of March, are parked in dollar assets.
China has been trying to diversify its reserves, the world's largest, away from the US dollar, but analysts say such diversification has been gradual.
Market conditions are favorable for China to forge ahead with market-based reforms of the yuan regime, Guan said, adding however that there is no basis for any sharp yuan rise. "Recent improvements in the current account balance, especially in the trade balance, have shown that there is no basis for the yuan to appreciate significantly," Guan wrote.
As such, the timing is good now for China to improve the yuan exchange rate formation mechanism, he said without elaborating.
"The market conditions for two-way movement of the yuan exchange rate are gradually coming into existence," Guan said.