China's environment - and the way people think about it - have been dramatically transformed over the past 30 years.
When I arrived in 1990, working on environmental issues was a lonely pursuit. Not one Chinese environmental non-governmental organization existed at the time. Now there are more than 3,000. In the early days, we could not discuss climate change with officials. Today, China has committed to reducing its carbon intensity and is drafting a comprehensive climate change law.
China's environmental consciousness has emerged out of necessity. Coming from traffic-clogged Taipei, I much preferred Beijing's nearly car-free avenues. In the wintertime, Beijing became polluted from burning coal, but the summer brought clean air and sunshine. Nowadays, you can go for days without seeing blue sky.
Related readings:


 Environmental green light given to power project


 Getting strict with older industries and environmental degradation


 Environmental protection good for growth


 EU-China green co-op working well: EU official
Thirty years ago, China's countryside remained free of industry's presence. Today, increasing levels of particulates and heavy metals plague rural communities. Meanwhile, China's waterways are being saturated with chemicals, and its land and ocean ecosystems are under immense pressure.
China knows these dire trends cannot continue. The 12th Five-Year Plan (2011-2015) re-emphasizes that the only way to ensure economic growth is by cultivating sustainability. The plan sets binding targets that will reduce dangerous pollution and expand cleaner energy solutions.
I have seen impressive progress. Shortly after I arrived, China set a goal of creating 200 megawatts of wind power by 2000. Today, the nation has 41,000 mW. Fifteen years ago, green buildings and demand-side management were novel ideas here. Today, China has national and provincial standards for both.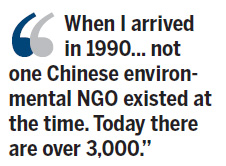 I also welcome the move toward greater transparency. People can only solve the problems they know about, and so in partnership with local environmental advocates Natural Resources Defense Council created the Pollution Information Transparency Index to rate how well Chinese cities disclose environmental information. Efforts like these have prodded officials to share more data with the public.
Yet China still has a long way to go. The 12th Five-Year Plan, for instance, calls for massive investments in more dirty coal plants - growth that is not compatible with protecting the environment unless carbon emissions are captured. The lock-in effects from commissioning the equivalent of the entire US fleet of coal plants in the last five years alone should be seriously discussed.
Over the next 30 years, China will face tough choices on how to develop sustainably, and I'm confident that those that protect public health and the environment will always be the right ones.
Barbara Finamore is founder and director of the China Program of Natural Resources Defense Council.