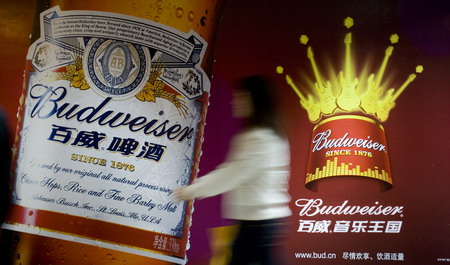 A billboard advertising Budweiser beer in Shanghai. China consumes about 40 billion liters of beer annually, accounting for nearly one-quarter of the global beer consumption. [Photo / Provided to China Daily] 
ZIYANG, Sichuan - Anheuser-Busch InBev NV (AB InBev), the world's largest brewer by sales, will dramatically increase its investment levels in China this year, in a bid to expand its footprint in the country, according to the company's top executive.
"In 2010, AB InBev recorded impressive growth in China, the largest and fastest-growing beer market in the world. Thus we plan to invest several hundred million dollars this year," said Carlos Brito, chief executive officer of the Belgium-based company.
China, along with the United States and Brazil, are three top-priority markets that will drive the volume growth of the global industry for the foreseeable future, said Brito.
Yang Qingchun, director of the public relations department at the Shenzhen-based market research company Societ Insights and Decision Co Ltd, said the Chinese now consume approximately 30 liters each every year.
Currently, the country consumes some 40 billion liters of beer annually, accounting for nearly one-quarter of global consumption, according to industry experts.
On Thursday, AB InBev launched its first brewery in southwest China to tap into the fast-growing potential of the region.
"With an investment of 650 million yuan ($100 million), the new brewery, located in Ziyang, Sichuan province, aims to better serve the 200 million consumers in the southwestern region," said Miguel Patricio, president of AB InBev Asia Pacific.
Related readings:


 AB InBev brews strategy for expansion


 Carlsberg aims to double profits worldwide


 Tsingtao Brewery 2010 net profit up 21.6%


 Specialty brewers tap into Chinese cities
According to Patricio, the Ziyang brewery, which covers an area of 136,000 square meters, is expected to produce 300,000 tons of AB InBev's two beer brands - Budweiser and Harbin - annually in its first phase.
The major construction work is now finished, trial operations have been run, and production is scheduled to start in August, he said.
The brewery will ultimately achieve an annual production capacity of 1 million tons when its second and third phases are completed.
The Ziyang facility will serve not only consumers in Sichuan province, but also the entire southwestern region, namely, Yunnan province, Guizhou province, the Tibet autonomous region and Chongqing municipality, said Patricio.
In recent years, AB InBev has expanded its presence in the world's largest beer market by establishing new production bases as well as acquiring Chinese local breweries.
The company set up breweries in Henan and Fujian provinces last year.