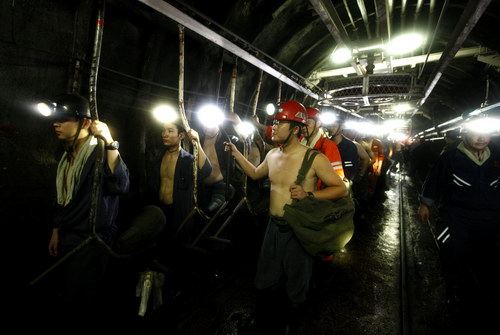 Miners prepare for work at a coal mine in Yanzhou, Shandong province. According to osc.org.cn, a major coal trading information and service website, thermal coal prices in main harbors around the Bohai Sea have been increasing for 10 weeks, reaching 832 yuan ($128) a ton on Wednesday, five yuan higher than last week. [Photo/China Daily]
Association says growth is helping China keep apace of greater demand
BEIJING - China's coal production and traffic volume has maintained double-digit growth, and the national coal reserves stood at 200 million tons by the end of April, helping the nation meet the increasing demand for coal, officials said.
China produced 1.12 billion tons of coal by the end of April, an increase of 11.1 percent year-on-year, according to a report Wednesday by the China National Coal Association (CNCA).
The association said major domestic power generation companies have 16 days of coal reserves, seven to 10 days more than in 2004, when China experienced a severe power shortage.
Related readings:


 Major coal production base terminates "small colliery" era


 Guizhou produces more raw coal


 Deep coal-mine shafts raise security risk: Official


 Thermal coal price rises set to continue
The price of thermal coal at Qinghuangdao port, a major port in Hebei province, reached 800 yuan ($123) to 810 yuan a ton, 30 yuan higher than the previous month.
According to osc.org.cn, a major coal trading information and service website, thermal coal prices in the main harbors around the Bohai Sea have been increasing for 10 weeks, reaching 832 yuan a ton on Wednesday, five yuan higher than last week.
The higher cost of coal production has been driving up prices, said Jiang Zhimin, vice-president of CNCA.
"The high coal prices have greatly frustrated power generation stations because they might have to spend more money to produce electricity," said Lin Boqiang, director of the China Center for Energy Economics Research at Xiamen University.
According to the China Electricity Council, the coal-fired power plants of five major power generation groups in China took a loss of 10.57 billion yuan in the first four months this year, 7.29 billion yuan more than the same period in the previous year, and the main cause of the loss is the rapidly rising price of coal.
Many provinces - including Zhejiang, Guangdong, Hunan, Jiangxi and Guizhou - have been suffering from power shortages since March, and many experts attributed the power shortages principally to the coal prices.
However, Dai Bing, a senior analyst at the online coal trading website coal.com.cn, said the current power shortage in southern China has several causes and that coal prices are not the biggest reason.
Dai said that the drought in South China is impeding hydropower production, reducing the power supply for the grid.
"If the water level rises in Hubei and Jiangsu provinces, the power shortage in South China will be effectively eased," said Dai. "The coal prices might even become lower for five to 15 yuan a ton if the water power plants are put back into production."
He added that some coal traders are holding on to stocks in high season, so the price rise, but the coal supply in Shanxi province is not a problem and the production capacity is stable.