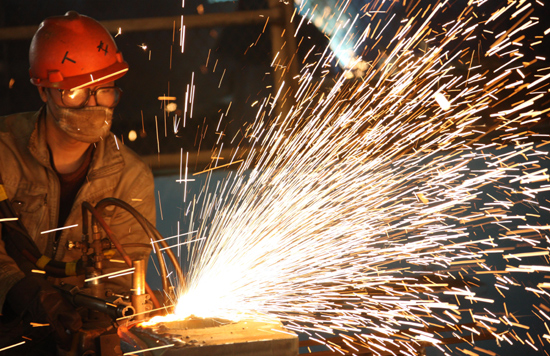 A worker cuts steel bars at a steel mill in Huaibei, Anhui province. Thousands of small mills will face power shortages because the government will first guarantee electricity to residential users. [Photo/ China Daily] 
BEIJING - The production of crude steel in China may start to drop in June, after peaking in early May, because of an impending power shortage, industry analysts said.
Steel production reached a record of nearly 1.95 million tons in the first 10 days of May, according to the latest figures from the China Iron and Steel Association.
"Crude steel output still remained high at the beginning of May, but it will be affected by worsening power shortages," said Zhang Lin, a steel analyst from the Beijing-based Lange Steel Information Center.
"Steelmakers might continue to boost output so they will have enough stock when a power shortage comes in the summer," she said.
China is facing serious power shortages over the summer, with the State Grid Corp anticipating a capacity gap of 30 to 40 gigawatts.
Thousands of small mills will face the challenge of power shortages because the government will first guarantee electricity to residential users.
Related readings:


 China's steelmakers diversify amid profits squeeze


 China's crude steel output rises 8.69% in Q1


 Steel mills hurt by high costs


 China's steel output growth to slow

The government is limiting power supplies in southern China. Hunan Valin Steel Co Ltd and smaller mills reported output reductions because of local power shortages, according to Bloomberg News.
However, in northern China, Hebei Iron & Steel Group and Shandong Iron & Steel Group have not yet reported reduced output.
Last year's mandatory power cuts to meet energy-saving targets forced small steel producers in Hebei province to cut output or close mills.
Steel prices remained flat for a week, with rebar costing 4,940 yuan ($760) a ton on the Shanghai spot market, unchanged since May 17, according to the consultancy Mysteel.
Zhang said the electricity shortage will affect the whole industry chain including raw material producers, possibly pushing up the prices of raw materials and steel products.
Xicheng Steel increased its price for deformed steel bar by 20 yuan a ton on Monday, while Handan Steel increased its price by 30 yuan a ton.
Prices remained stagnant at most steel mills, however. The cost rises for steel products mainly involve construction plates, as the downstream of steel plates including the car industry remained sluggish.
The Indian steel producer JSW Steel Ltd said higher raw material prices are likely to keep margins under pressure during the quarter which started in June. Coking coal prices have increased to an average $330 a ton in March from $225 in January. Iron ore prices have risen by $50 a ton compared with last year.
Indian ore with an iron content of 63.5 percent was being offered at $183 to $186 a ton including freight on Thursday and Friday, the industry consultancy Umetal said.
According to data from the National Development and Reform Commission, Operating costs for Chinese steelmakers rose 17 percent to 30.1 billion yuan in the first quarter. The price of steel products increased 17 percent while the price of iron ore rose 40 percent, squeezing the companies' profits.