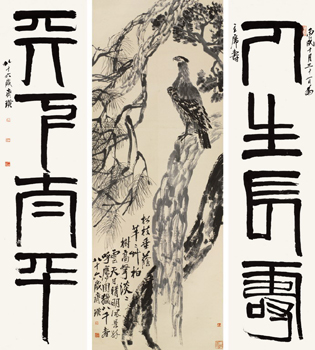 Chinese painter Qi Baishi's work that was sold for 425.5 million yuan on Sunday night at a Beijing auction. [Photo /China Daily] 
BEIJING -- A painting by contemporary Chinese artist Qi Baishi was sold by Beijing-based China Guardian on Sunday for 425.5 million yuan ($65 million), a record high for contemporary and modern Chinese paintings and calligraphy.
The high auction price was, in the history of the Chinese mainland art market, second only to ancient calligrapher Huang Tingjian's hand scroll "Pillar Ming," which was sold for 436.8 million yuan in 2009.
The work of Qi, entitled "Eagle Standing on Pine Tree with Four-character Couplet in Seal Script," consists of a painting measuring 266 cm by 100 cm and a pair of calligraphy scrolls each measuring 264.5 cm by 65.8 cm. It is said to be Qi's largest work.
Related readings:


 Mainland painting sparks art craze among Taiwanese


 Eight-year-old painting prodigy is new art wonder


 Copyrights in focus over painting based on photo
Qi was born in 1864 in central China's Hunan province and died at the age of 93. Although he relished the portrayal of small things, such as birds, fish, fruit and vegetables, Qi was also known as an outstanding calligrapher.
The auctioned work, according to the signature on the scroll, was finished in 1946 when the painter was 86 years old.
"Qi Baishi is the most influential artist in China's contemporary and modern art history. This work, with its high price, marks a new era for the market of contemporary and modern Chinese artworks," said Guo Tong, general manger of the contemporary and modern Chinese painting and calligraphy department under China Guardian.
The high-profile sale came amid the exponential growth of the Chinese fine art market in recent years. According to a report released earlier this year by artprice.com, China soared from the ninth place to first in 2010, becoming the world's largest auction marketplace for fine art, overtaking the United States and Britain.
The spring auction at China Guardian runs from May 21 to 25 and includes categories such as Chinese painting and calligraphy, porcelain, jewels, stamps and coins, Chinese oil paintings and sculptures, rare books and manuscripts.