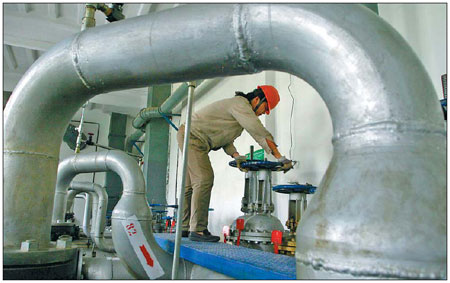 A PetroChina refinery in Lanzhou, Gansu province. The major oil company aims to double its trading value to $200 billion by 2015 from 2010's level. [Photo / China Daily]
The company is looking for greater exposure in the global market
BEIJING - PetroChina Co Ltd, the nation's biggest energy firm by market value, plans to establish three operation centers, in Singapore, London, and New York, in an effort to boost its foothold overseas, according to the company's top official.
PetroChina, which traditionally focuses on the upstream sector, will expand its overseas trading to gain greater influence on the global stage, Jiang Jiemin, the company chairman, said on Wednesday.
"We're planning to set up storage and transport facilities in the Caribbean Sea region to strengthen cooperation with local companies, as part of our steps to support the New York operation center," Jiang said.
The major oil company is aiming to double its trading value to $200 billion by 2015 from 2010's level.
Related readings:


 PetroChina to take joint control of Ineos' assets


 PetroChina looks for boost from higher production


 PetroChina's net profits up 13.9% in Q1


 China, Russia can solve energy problems: spokesman

China National Petroleum Corp (CNPC), PetroChina's parent, is planning to obtain 50 percent of its total 400 million tons of oil equivalent from the overseas market by the end of 2015, according to Jiang, who is also CNPC's general manager.
PetroChina has already laid the initial foundations in the Asian market after acquiring stakes in the Osaka refinery in Japan and Singapore Petroleum Co.
And the energy company's agreement to form a new trading and refining joint venture in Europe with Ineos Group Holdings Plc of the UK may help the Chinese company to gain a foothold in the European market.
"PetroChina's three overseas operational centers signal its efforts to form a complete industry chain abroad, after its earlier aggressive overseas expansion in the upstream sector, " Lin Boqiang, director of the China Center for Energy Economic Research at Xiamen University.
He said China's refining capacity is projected to increase seven-fold within seven to 10 years. Consequently, domestic refiners will have to expand their overseas markets to absorb the foreseeable future overcapacity, Lin said.
PetroChina reported a loss of 6 billion yuan ($922 million) in its refining business in the first quarter of 2011 as global crude oil prices outpaced the price of domestic fuel as set by the central government.
In the same period, the rival China Petroleum & Chemical Corp, the country's biggest oil refiner by capacity, posted a refining loss of 576 million yuan.
PetroChina will optimize its refining strategy by accelerating construction of more refineries in coastal areas such as the provinces of Zhejiang and Guangdong, said Zhou Jiping, the company's president.
The move will help to slightly alleviate PetroChina's refining losses by reducing logistical costs, said He Wei, a senior analyst at BOCOM International Holding Co in Beijing.
The company occupied less than 30 percent of East China's market for refined oil products market in 2010, according to He.