Domestic plan
Isaac Valero-Ladron, the European Commission's climate spokesman, said on May 11 that the EU is examining whether China could earn an exemption from the program thanks to its domestic plan. The European legislation offers an option to exclude incoming and departing flights from a non-EU country if the airline's nation implements equivalent measures to cut pollution from aviation.
"We need to analyze the details of the Chinese plan to curb emissions from airlines," he was quoted by Bloomberg as saying. "Regardless of their nationality, all carriers must be treated equally to avoid distortion of competition. We have been and will continue to be open to discuss how to best combine our efforts in addressing the impact of aviation."
China has set a target, by 2020, to reduce carbon emissions for each unit of economic growth by 40 to 45 percent from 2005 levels. As part of that move, the country's aviation regulator also asked all airline carriers to cut energy and carbon intensity by 22 percent during the same period.
Related readings:


 Latest China-EU trade frictions not trade war: MOF


 EU carbon tax to hike air travel costs


 The sky's the limit


 Airline extends its international reach
Such a plan could fall short of the expectations of the EU, which prefers a cap on carbon emissions, said Zhang Jianyu, China program manager of the US-based Environmental Defense Fund.
"Even with this carbon intensity cut, China's greenhouse gas emissions in the aviation industry are still set to grow, while EU's cap-and-trade system is aimed at reducing the total amount of carbon emissions by the sector," Zhang said.
Chai said CATA sent a negotiation group to the European Commission's headquarters in Brussels in early May, but is still waiting for an official response from EU. He is not optimistic about the result. "The EU side said they understand our concerns, but the law to extend ETS was passed by the European Parliament, leaving it little room for change," he said in a telephone interview with China Daily.
He also said CATA is prepared to sue EU if the program includes Chinese airlines. The prospects there are not encouraging, judging from the experience of three major airlines from the United States.
United and Continental, which merged last year, and American filed a case in late 2009, at the High Court in London, against the extension of ETS to most international flights into and out of European airports. The British court referred the case nearly a year ago to the European Court of Justice in Luxembourg for a preliminary ruling. The US airlines are still waiting for a hearing date.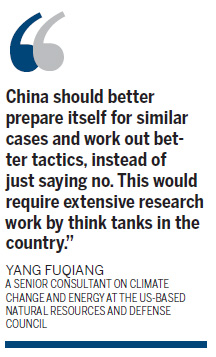 EU moving faster
Yang Fuqiang, a senior consultant on climate change and energy at the US-based Natural Resources and Defense Council, said the aviation sector is a "delicate choice" by EU to extend its carbon-pricing system to the rest of the world. Designing the rules is relatively easy, Yang said, and calculating emissions is less complicated than in other industrial sectors.
ETS, launched in 2005, now covers 12,000 power plants, factories and other industrial facilities. It is the world's largest cap-and-trade system dealing with carbon emissions. By setting limits on greenhouse gases and then allowing companies to buy and sell permits corresponding to their emission levels, such a system offers an economic and effective way to curb emissions. It also encourages innovation in green technologies.
With this system, EU is moving much faster than individual developed countries in cutting carbon emissions.
EU has long sought to engage other major economies, such as the US, Japan and China, in carrying out similar efforts to reduce carbon emissions. Emission-cutting efforts could be under bilateral or multilateral mechanisms, as long as the countries work to reduce carbon emissions. But international negotiation on overall climate solutions is in a stalemate, so the outlook for a multilateral mechanism is gloomy.
Yang said the EU is trying to "bring everybody to sit down and have a talk" on dealing with global aviation's carbon footprint. The sector accounts for about 3.5 percent of the world's total greenhouse gas emissions.
More than 190 countries are negotiating toward a legally binding agreement by the end of this year. Ideally, the global deal would provide comprehensive solutions to combat global warming and would be based on the universally accepted principle of "common but differentiated responsibilities", which exempts developing countries from obligations to cut emissions of greenhouse gases.