Tariffs will be imposed to counter subsidies for EU's producers
BEIJING - China will impose an anti-subsidy tariff on potato starch imported from the European Union (EU), although no starting date for the tariff has yet been announced.
The levy will be China's first-ever anti-subsidy duty targeting EU potato starch, the Ministry of Commerce said on Monday.
According to a statement on the ministry's website, the duty rates will range from 7.7 percent to 11.19 percent. France's Roquette Freres SA will pay 7.7 percent and the Netherland's Avebe UA will pay 11.19 percent.
Related readings:


 Hu says to 'provide convenience' for EU investment


 China finds EU members subsidize exports of potato starch to China


 China protests EU first anti-subsidy duties

 EU's anti-dumping tariffs 'unfair'
"The move is to counter alleged trade-distorting subsidies to European exporters of potato starch, who sell products at an excessively low price in China," Zhou Qingfeng, vice-director at the China Starch Industry Association (CSIA), told China Daily.
The ministry and CSIA launched an anti-subsidy probe on EU imports of potato starch in June 2010, following an anti-dumping investigation initiated in April of the same year.
According to the ministry, the anti-dumping duty rates, which came into effect last month, range from 12.6 percent to 56.7 percent.
In addition to its applications in the food industry, potato starch is also widely used in industrial sectors such as textile finishing and paper coating.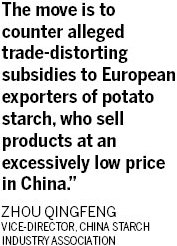 "Although China is rich in potato resources, the development of the domestic potato starch industry is being seriously damaged because of competition from EU exporters who have been selling potato starch at below-costs, or at a dumped price in Chinese market," said Zhou.
According to the CSIA, potato starch imported from the EU was priced at $430 a ton in China in 2010, accounting for 30 percent of the exporters' total costs.
"The EU provides several kinds of subsidies to their producers of potato starch, so that they can produce a margin even though they sell goods at a price far below the local market price in foreign countries," the CSIA's Zhou said, adding that a reasonable market price for potato starch is around $1,800 a ton in China.
At present, potato starch imported from the EU has a market share of 40 percent in China, which has seen strong demand for the product and, therefore, has huge potential for the development of the industry.
Zhou said that by the end of the 12th Five-Year Plan (2011-2015) period, China's demand for potato starch is set to reach 1.2 million tons annually, double the current amount.
At present, the EU produces 2 million tons of potato starch every year, and 10 percent of that is exported to China. "The development of China's potato starch industry will rebound if a standard market price can be established through the government's move to regulate the price set by EU exporters, who always have pricing power in the Chinese market," Zhou said.
China's new decision comes two days after the European Commission announced on Saturday a final ruling to impose countervailing tariff rates on Chinese coated fine paper, ranging from four to 12 percent, and anti-dumping duty rates of 8 to 35.1 percent.
Yao Jian, a ministry spokesman, said on Sunday that China opposes the EU decision, which, he said, violates many principles of the World Trade Organization.
Yao said that both the government and businesses have provided evidence to show that China's coated fine paper industry works in conjunction with the principles of a free market economy, and that the government never intervenes in company operations or pricing.
The EU is China's largest trading partner, while China is EU's second-largest. Last year, the value of bilateral trade was close to $480 billion, a 31.8 percent increase year-on-year.