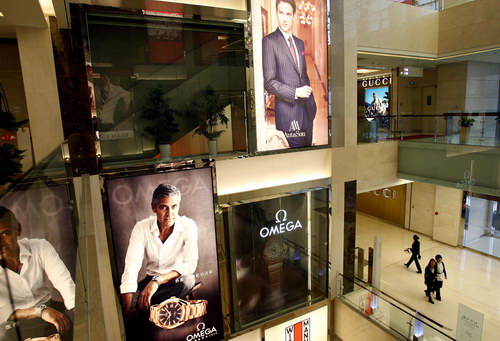 Omega, Gucci and other luxury brand franchise shops in a shopping mall in Jinbao Street near Wangfujing, in downtown Beijing. [Photo/China Daily]
BEIJING - Visitors to Jinbao Street in downtown Beijing can be forgiven for not knowing it was full of shabby single-story houses 10 years ago. Now, the complex of top commercial properties is designed to offer people a high-end lifestyle while becoming world-famous for its Chinese culture.
At one end of the 730-meter road, five-star hotels the Regent Beijing and Legendale Palace Hotel Beijing stand opposite each other.
The street, which means wealth in Chinese, rose to fame a few years ago when luxury carmakers Ferrari and Maserati decided to share a showroom. Rolls-Royce, Bentley, Lamborghini, Pagani and Aston Martin then also moved in and Bugatti, the world's most expensive sports car, decided to build its first global showroom there.
Related readings:


 Mainland properties lure foreign capitals


 China calls for luxury price cuts


 New luxury project is a bad bet


 Property sales values increase
"The prime location of Jinbao Street contributed to the booming business in cars," Zhao Yong, president of Jinbao Street Holding Co and Fu Wah Land Co, told China Daily.
Zhao said that several hundred Rolls-Royce cars were sold in the street in 2010, while the number in another famous showroom in Beijing was only four.
Zhao said Jinbao Street Holding Co is a developer as well as an operator. Its revenue is from rents and the appreciating value of real estate. Its rents have increased by 10 to 15 percent every year; the appreciation of the land's value has been considerably higher.
Zhao said that China is the second largest market for luxury goods in the world, and purchases of luxury goods in the country has increased by 20 to 30 percent annually.
"Our street is located in the heart of Beijing, where China's largest group of wealthy people gathers," he said.
Jinbao Street is near popular Wangfujing. It is surrounded by economic zones including the central business district.
"Luxury cars are our attraction, but our goal is to provide people with a high-end lifestyle," Zhao said.
Another large shopping mall is being planned in addition to Jinbao Place, covering 100,000 square meters. The two shopping centers will be linked and their products will be complementary.
Zhao said Jinbao Street is unique because it not only attracts people during the day but also at night.
"For instance, some customers with top of the range cars will go shopping in Jinbao Place, have a meal in the Cantonese dining hall Liyuan and enjoy a cigar at the Hong Kong Jockey Club or have a spa in the Regent," he said. "We hope to build a street offering our customers a 24-hour service."
Scott Kronick, president of the North Asia area of Ogilvy Public Relations Worldwide, said he enjoyed working in Jinbao Tower.
"It has great facilities, such as Dadong restaraunt," said Kronick, "Dishes are good and the environment is pleasant."
According to Kronick, the street developed so fast it is almost unrecognizable.
"Just over five years ago the street was decrepit and we had concerns about opening our office here. Now it has proved to be a wise choice," said Kronick.
Prominent business streets globally, including the Fifth Avenue in New York, the Champs-Elysees in Paris, Omotosando in Tokyo and New Bond Street in London, are icons for their countries. Zhao said Jinbao will be the same for China.
"The goal requires us to promote Chinese culture in the street," he said.
More than 10 first-class luxury brands will open flagship stores on undeveloped parts of the street with Chinese features, according to him.
"For instance, Cartier will open a single store covering more than 1,000 square meters and set up a small exhibition to show its brand culture," Zhao said. "We hope the store's appearance will reflect Chinese elements."
Yan Zhengmao, Jinbao's marketing promotions manager, said the company was making an effort to improve and represent Chinese culture on an impressive scale.
"Luxury items are not simply expensive things. They are also the cultural heritage," said Yan. "China should be confident in this aspect."
Yan added the company would build clubs in siheyuan style - the traditional Chinese courtyard house - and bring events such as Chinese drama to the street.