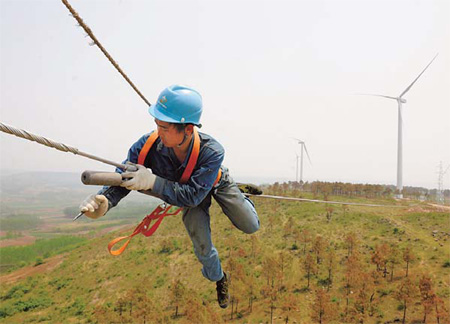 A technician braves the heights as he conducts routine checks at a wind farm in Laian county, Anhui province, in this photo taken on April 29. [Photo / China Daily]
Frequent power cuts caused by rising consumption and insufficient coal stocks, Wang Zhenghua and Wu Yiyao report from Zhejiang.
Xu Shuhui had to tell his customers, once again, that their orders would be delayed because power cuts and blackouts had suspended production.
Since April, many businesses in Zhejiang province, one of China's most resilient economic engines in the Yangtze River Delta, have been hit by the worst power shortage in years.
Related readings:


 Sustainability through renewable energy


 China ranks 2 as clean tech producer, US is No 17


 Thermal power supply slump causes power shortage


 East China firms face blackouts amid power shortages
"It's very annoying to alter production plans because of the power crunch," said Xu, deputy general manager of Cixi Henghui Chemical Fiber Co. Each blackout usually lasts about 12 hours, he said, and results in a 60,000 yuan ($9,200) loss - a handsome amount for a company with 120 employees.
What is worse, he said, is that Henghui and many other companies in the area have been told to prepare for more electricity cuts when the energy-consuming summer months descend.
Residents and key sectors will be given priority for electricity supplies.
The power shortage, which is rare in low-energy-consuming months, has cut a large swath in the country, including important economic powerhouses in the east and south and many provinces in other parts of China. A circular issued by China's top economic planning body, the National Development and Reform Commission, said about 20 regions in the country have already started rationing electricity.
Zhejiang province has a shortage of up to 3.5 million kilowatts these days, while the power company in neighboring Jiangsu province estimated it would be 11 million kW short for the summer, accounting for 16 percent of the total supply needed.
The worst power shortfall in years also has gripped such areas as Jiangxi and Hubei provinces and Chongqing municipality, where power use curbs were introduced earlier this year.
Power demand climbs
Causes include a jump in electricity consumption, insufficient coal stocks at power plants and low water levels for hydropower generation, authorities said.
The National Energy Administration reports that China's electricity use in the first quarter rose 12.7 percent year-on-year to 1.09 trillion kilowatts-hours.
Take Central China's Hunan province as an example. Consumption grew about 26 percent year-on-year to 8.2 billion kWh in April, despite local government's efforts to suppress the demand. The province is now 4 million kW short of demand.
China Electricity Council, a nonprofit organization of power enterprises and institutions, said there would be a gap of 30 million kW across the country this summer, an amount equivalent to the total electricity generation capacity of East China's Anhui province.
That figure was based on the most positive preconditions - that the summer is not extremely hot, that water flow is sufficient for hydroelectricity plants and that no emergencies require a significant extra power supply.
"Owing to excessively heavy demand, even with production and supply growth in the double digits, supplies of coal, power and oil in some regions are still tight, and future trends give no grounds for optimism," said Liu Tienan, the National Energy Administration's director. "Our country must vigorously prepare" for summer's peak demand for power.