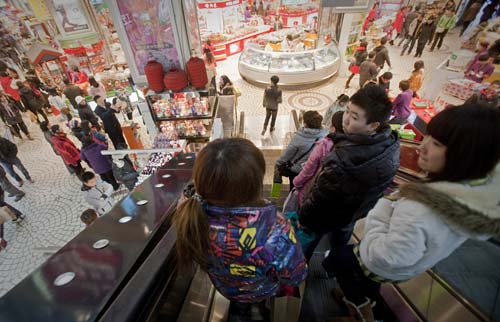 People at a shopping mall in Beijing. According to analysts, China's Consumer Price Index is likely to have risen to at least 5 percent in April from a year earlier. [Photo/Agencies]
Analysts say continued inflationary pressure may prompt more measures
BEIJING - China's Consumer Price Index (CPI) is likely to remain at a high level with April's figure rising to at least 5 percent from a year earlier, according to analysts.
Meanwhile, they warned that stubbornly high inflation may compel the government to maintain its tight monetary policy.
April CPI, a main gauge of inflation, may increase to between 5.2 percent and 5.5 percent year-on-year, Peng Wensheng, chief economist at China International Capital Corporation Limited (CICC), wrote in a report.
The National Bureau of Statistics (NBS) will release the April figure on May 11.
Related readings:


 CPI predicted to remain at high level in Q2


 China's CPI to rise around 5% in Q2: Official


 China's March CPI to hit 5.2%: Survey


 China targets 4% CPI rise, price stability top priority
Peng said that the People's Bank of China, the central bank, is likely to raise the required reserve ratios for banks - that's the proportion of money banks must set aside as reserves - for the 11th time since the beginning of 2010, and increase benchmark interest rates again during the second quarter, aiming to tame inflation.
"Soaring non-food prices may lift the figure to about 5.4 percent, the same as in March," said Peng, who predicted non-food prices are likely to have increased by between 0.2 percent and 0.4 percent from a month earlier.
In March, food prices, which account for about 30 percent of the CPI basket, jumped 11 percent year-on-year, boosting the inflation indicator to 5.4 percent from a year earlier, the fastest growth since July 2008, according to the statistic bureau.
A statement from the NBS showed that the price of 59 percent of the types of food surveyed decreased in 50 of the nation's largest cities between April 11 to April 20. Vegetables prices declined the most, by 7.56 percent on average.
Lu Zhengwei, the chief economist at Industrial Bank Co Ltd, said that food prices are likely to decrease slightly in April, which may ease the inflationary pressure to some extent. "However, surging non-food prices, including those of oil, accommodation rental and industrial products, drove up CPI in April," said Lu.
Lu predicted that the increase in bank lending may have exceeded 700 billion yuan ($107.7 billion) in April, indicating continuing strong GDP growth. "The hot economic growth may continue to lead to high consumer prices and drive CPI to a new peak between June and October," said Lu.
In the first quarter, GDP rose 9.7 percent year-on-year, showing the potential for overheating. Economic growth in the second quarter may decrease slightly, but still remain solid at about 9.5 percent, said Lu Ting, an economist at Bank of America Merrill Lynch, on Tuesday.
The government may further tighten money supply in the second quarter to soak up excessive liquidity, said Li Huiyong, chief analyst at Shenyin & Wanguo Securities Co Ltd. Further tightening policies, intended to cool the real estate market and curb consumer prices, may be introduced in the second half, according to Li.
China has raised the benchmark interest rate twice since the beginning of the year and the reserve requirement four times over the same period.