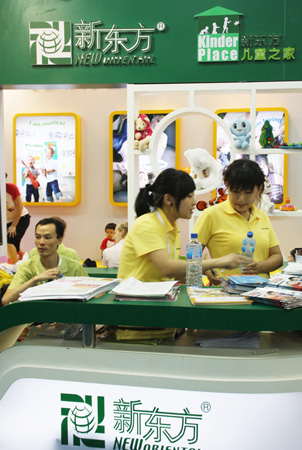 New Oriental Education & Technology Group Inc's booth at a parenting and education exhibition in Beijing. [Photo / China Daily]
BEIJING - New Oriental Education & Technology Group Inc, China's largest private-education company by market share, will open fewer schools and focus on filling classrooms as it aims to boost profit margins.
Related readings:


 New Oriental net profit up on higher student enrollment


 New Oriental 3 months to August net profit up 100.8 percent


 New Oriental School's compensation to ETS reduced


 New Oriental Education to seek west IPO
New Oriental has expanded "too fast" after more than doubling the number of learning centers in the last two years, Louis Hsieh, president and chief financial officer of the Beijing-based company, said in an interview on Wednesday.
"The utilization rate in the existing facilities is not high enough," Hsieh said. "To get higher operating margins, it makes sense for us to slow down the construction of learning centers and fill them first."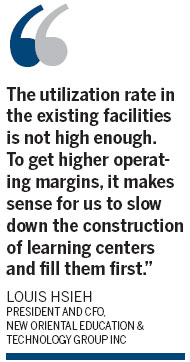 New Oriental, founded in 1993 by Michael Yu, a former English teacher at Peking University, offers test-preparation and tutoring classes to students seeking to gain entry to universities. Its shares have more than doubled in the past two years in New York trading as demand for overseas study surges in China with rising incomes.
The market for English-language courses in China will more than double to $13.6 billion in 2014, according to a January fact sheet on the company's website. The number of Chinese students studying abroad is forecast to rise 8 percent to 259,000 this year.
Third-quarter net income rose 68 percent from a year earlier to $23.3 million, the company said on Wednesday, beating the $18.5 million average of six analysts' estimates compiled by Bloomberg. Revenue climbed 49 percent to $132.5 million. Fourth-quarter sales will be between $114.3 million and $118.6 million, the company forecast.
Learning centers
New Oriental will open about 70 to 80 learning centers and schools, bringing the total to about 550 by the end of May 2012, according to Hsieh.
Net income margin will increase to "well over" 20 percent in two years, from 16 percent now, as student intake increases at newer learning centers, he said.
Enrollment in tutoring and test-preparation courses increased 18 percent from a year earlier to about 490,200 in the quarter ended February 28, the company said. New Oriental had a total of 1.8 million students in the year ended May 31, 2010.
Bloomberg News