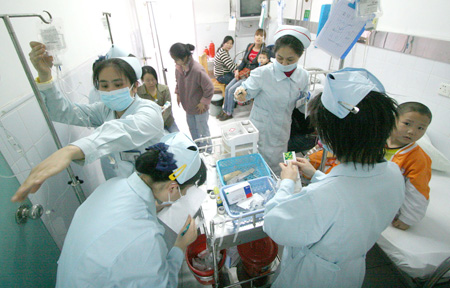 Kindergartners in Zhuhai, Guangdong province, are treated in March 2008 after drinking contaminated milk. The company that provided the milk was not qualified for the school milk program but was a longtime supplier. [Photo / China Daily]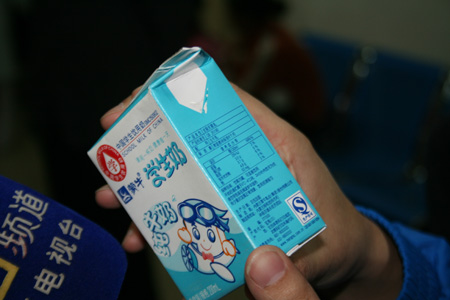 A parent checks the labeling on a carton of school milk in Yulin, Shaanxi province, on Friday after 251 children fell ill at Yuhe Town Central Primary School. Initial tests found no pathogens.
Health scares continue to damage public confidence, reports Zhou Wenting in Beijing.
A national school milk program intended to improve children's health has soured again.
On Friday morning, 251 children at Yuhe Town Central Primary School in Yulin, Shaanxi province, fell ill after drinking school milk produced by the Mengniu Dairy Group. They were sent to hospital for treatment, and were all discharged by the following day.
Related readings:


 Mengniu may considers price rises


 China Mengniu Dairy opens factory in Qingyuan


 Mengniu founder donates all his shares


 Mengniu to bid on France's Yoplait
Test results released on Tuesday afternoon said the milk met China's national standards for food safety, and no pathogens were detected in the milk or the students' vomit and feces. They did not say why 251 students suffered from the discomforts collectively.
The tests were conducted by Yulin's Center for Disease Control and Prevention and the results were announced by the city's food safety committee.
On Tuesday evening, Mengniu said on its website that it would work with the school and the local health department to track the students' health. But public confidence in China's developing school milk program suffered another blow.
Dairy enterprises are impaired by suspected and real poisoning incidents and low profits. Schools stay out of the program because they do not want to be implicated in safety scandals. And the country has no unified management or supervision of the program it started in 2000.
Milk producers and local watchdogs are the first to be blamed for bad quality control, but experts also have doubts about the guiding theory behind the program.
Two tests, two results
Mengniu breathed a corporate sigh of relief at the test report, but food safety experts didn't let it go easily.
"Why do accidents always happen at branch plants?" said Sang Liwei, a food-safety lawyer in Beijing and a representative of the Global Food Safety Forum, a non-governmental organization.
The milk the Yulin children drank was processed at a local plant in Baoji that is owned by Inner Mongolia-based Mengniu. "One month ago," Sang said, "milk withdrawn from circulation was also produced by a subsidiary plant", that one in Zhengzhou, Henan province, and owned by Shanghai Bright Dairy & Food.
Mengniu was involved in two milk incidents in Shaanxi province within the past year, but test results for both set it free. Experts called for a new test by higher authorities.
Sang mentioned safety concerns at Nongfu Spring in Haikou, Hainan province, in 2009. Haikou Municipal Industrial and Commercial Bureau detected excessive mercury in the drinking water, but a later test by the provincial bureau showed the water met standards.
"No matter what happened behind the scenes, it at least showed that two tests can give different answers," Sang said.
Food safety experts said if the questioned milk indeed passed the tests, then the standard for dairy products in China is doubtful.
"We have two tests: qualitative and quantitative," Sang said. "Sanlu's baby formula had also been qualified before 2008, because there wasn't a test target for melamine," Sang said.
An estimated 300,000 infants, including six who died from kidney stones or other kidney damage, became victims of baby formula produced by Sanlu Group Co in 2008. The chemical melamine, which was added to the milk, caused it to appear to have a higher protein content.
So what really caused the Yulin schoolchildren to become ill?
Hours after the test results were announced, Mengniu suggested two possible reasons - the "unscientific" way the children drank the milk and hysteria, because "only 16 students vomited and felt nausea at first".
"After drinking the cold milk on an empty belly, some students experienced upper abdominal pain, nausea, vomiting and other symptoms of gastritis," said Zhao Yuanhua, vice-president of Mengniu Dairy Group.
Parents were skeptical. "Is this blaming the children's poor physical condition? Could it be said that hundreds of students are all in poor condition?" Chen, parent of a third-grader, was quoted by the Beijing News as saying.
Zhao told China Daily there are other reasons to believe the milk was safe. "Students at another primary school in Hanzhong, Shaanxi province, drank 700 cartons of milk from the same batch, but none experienced discomfort."
Zhao said teachers at the Yulin school have said the symptoms appeared first among 16 students and then seemed to spread. "That might be caused by hysteria," he said.
Mental health experts said it can happen. "If several children began to vomit and have stomachaches, it's possible that hundreds of others may be influenced . . . and undergo a collective reaction," said Ji Xuesong, a professor at Peking University's institute of mental health.
"If some students showed symptoms like nausea and vomiting, a teacher should avoid asking if others have the same feelings," Zhao said. "Asking that may make more children get infected."
An outbreak
When China launched its national school milk program, nine ministries and bureaus established a coordination group, which is affiliated with the Ministry of Agriculture.
School milk carries special symbols on its packaging and cannot be sold in the marketplace. Authorized enterprises must pass expert evaluation and approval of the coordination group. The price of school milk must be lower than the market price of similar products in the same region.
"Direct delivery was compulsive, and the service was regulated," Wang Dingmian, former vice-chairman of the Guangdong Provincial Dairy Association, told China Daily on Monday. "But when the management system ended in 2003 and the administration and approval rights were passed on to local departments below the provincial level, problems began to erupt."
The incident with the widest impact happened in Haicheng, Liaoning province, in March 2003. A total of 3,936 students and 260 teachers in eight primary schools showed symptoms after drinking soymilk at school. A 13-year-old girl died.
An investigation found that the food poisoning was caused by the soy flour, the raw material used in soymilk.
Five years later, 152 children in several kindergartens in Zhuhai and Jiangmen, Guangdong province, were poisoned when they drank milk processed by Zhuhai Bigshot Dairy Co. The company did not meet the qualifications for supplying school milk but had long been a major supplier for local schools.
The Ministry of Health reported, "The milk was contaminated by a kind of coccus (bacterium) in the process of adding ingredients, and was not effectively disinfected."
Five incidents occurred in April 2010 in Shaanxi province. In two cases, investigations showed that the milk from Mengniu Dairy Group and another dairy giant, Yili Industrial Group, met national standards for food safety.
Shaanxi Renrengao Dairy, a private company based in Baoji, was the culprit in two of the cases. Its filling machines did not seal milk packages well, so air sneaked in and the milk spoiled.
The company had acquired a license for manufacturing of industrial products, a food hygiene license and ISO9001 quality management accreditation.
No reports were found about how the enterprises were punished. Bigshot and Renrengao have multiple product lines today.
In the fifth case, nine pupils at Qianwei town's Andai Primary School in Lantian county suffered abdominal pain after ingesting milk and eggs at school. No reports about the culprit were found.
Well off target
China's school milk program is still in a fledging phase, covering only 1 percent of students. The original target was 30 percent in 2010.
The program's broader goals were to improve the health of children and teenagers, advocate the concept of scientific diet, and promote the rapid development of the dairy industry.
In 2000, five major cities carried out pilot programs. By 2006, four of them had sunk in stagnancy.
For example, the Shanghai Municipal Education Commission called it quits after the soymilk poisoning in Liaoning province in 2003. Guangzhou had been the best performer, but participation dropped from 40 percent in 2007 to 12 percent this year, according to a milk market analysis and a dairy industry plan from Guangzhou.
The national school milk program continues, but experts say it seemingly has become philanthropy.
"Parents in developed cities are more willing to buy expensive and high-quality milk for their children by themselves," said Sang, the food-safety lawyer. "So the school milk project is now more noticeable in backward areas, including many cases where local governments pay the bill."
Experts say that if the program is called off in some areas, students will be harmed.
"The school milk program should be a boon for students nationwide," Sang said. "Local governments shouldn't give it up for fear of milk scandals. Large-scale businesses and State-owned enterprises can take part in and shoulder more social responsibilities."
'Invest in children'
The United Nations Food and Agriculture Organization reports that 62 countries have implemented school milk programs. Roughly half are developed countries and half are developing.
Experts are frustrated to see the program cannot find its place in China. They attributed the failure to weak supervision and overwhelming business costs.
Wang, the former Guangdong dairy association official, said a local permit to produce school milk is a stepping stone for companies to enter a local market. But once the permit is obtained, he said, companies might not strictly follow the processes and meet the standards for student milk.
Detection equipment, inspectors and other means of ensuring product safety are costly, Sang said. If an enterprise cannot produce a profit - remember, the school milk price must be lower than market price - it has fewer resources to ensure the quality of its products.
Even local watchdogs have proved to be of little help. "In many areas, one could find a 'school milk office', which is responsible for supervising the local school milk program," Wang said. However, he added, the office usually has other responsibilities that take priority.
Experts suggested a national program that is fully carried out by the government as a solution.
"It can be managed by the cooperative efforts of the Ministry of Education, quality inspection department and others, who are in charge of unified bidding, establishing a long-term mechanism and implementing strong penalties," Sang said. "This is also a good way to prevent collusion of local governments and businesses."
Wang came up with the same solution. "The government can set up a production chain and supervise the whole process, from raw material collection to delivery."
In many places, especially well-developed ones, Wang said, local governments are doing well on social service programs. "Why can't we invest more in children?"
Sang said China can learn from the United States, which experienced serious food safety problems a century ago but reversed its plight. The president, Theodore Roosevelt, was determined to make a change. Later, the Food and Drug Administration and a quality inspection system were established in succession.
"The Chinese government can also solve the problem," Sang said, "and the key is determination."
Wang Yan contributed to this story.