The Beijing suburb of Pinggu is famous for its scenic peach blossoms that attract thousands of tourists every spring.
Now it's ready to receive a new kind of visitor - musicians and record company agents.
The nation's first music copyright trade center was founded in Pinggu on April 21 by the district government, the Music Copyright Society, the China Audio-Video Copyright Association and China National Radio.
Related readings:


 Officials look to tackle copyright piracy issue


 China cracks down on online copyright infringements


 4,500 items seized over copyright infringement


 Baidu copyright row probes underway: Official
It provides consulting services to musicians on registration, evaluation and protection of copyrights.
"China's music industry depends on its commercial performance," said Cai Yuheng, operations director at Beijing's International Copyright Exchange. "Profits brought by copyright trading account for a tiny proportion, which can almost be ignored."
"That is not normal, healthy operation," he noted. "Chaotic copyright exchanges and illegal use of musical works are commonplace."
In addition, some paid associations do not fulfill their obligations to help members safeguard rights, which creates further chaos, Cai said.
He said he hopes the new center will standardize and bring order to copyright trading as well as promote the sound development of China's music industry.
At the opening ceremony for the center, famed composer Chen Qigang said "it is very convenient for Chinese people to download music for free, so the society does not have the sense that intellectual products should be paid for and show respect to its creators".
The ceremony was held during a forum on copyright protection.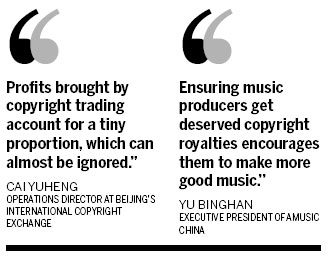 Singer-songwriter Wang Feng said that "many great composers do not get paid what their creations are worth".
"I believe the music industry can be hugely profitable if the copyright protection issue is greatly improved," he said. "It will not only benefit musicians but also the audience that wants to hear more excellent songs and enjoy top-level concerts."
The forum's Chairman Li Shuangjiang said the healthy growth of China's original music industry "needs more effort in addition to that from solely musicians".
Yu Binghan, executive president of AMusic China, said China's regulators can learn from Japan or the United States in dealing with the digital music revolution.
"Ensuring the music producers get deserved copyright royalties encourages them to make more good music," he said.
More than 150 famous singers and delegates from record companies and copyright associations attended the event to discuss the challenges they face in digital music copyright protection.