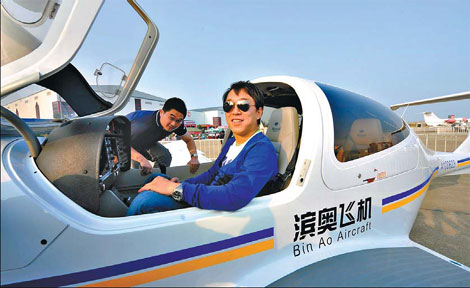 Chinese movie actor Huang Bo in a small aircraft. Huang, who became popular through his performance in the film Crazy Stone, was invited to be the face of a private flight training organization at the China International Aviation and Aerospace Exhibition in Zhuhai, Guangdong province, in November last year. [Photo / China Daily]
China's ultra-rich discover the convenience and value of private flights
BEIJING - Competition among China's top air carriers is intensifying. Air China's subsidiary for private aviation - Beijing Airlines - was launched on April 11, to rival existing companies, including HNA's Deer Jet and China Eastern Airlines' business jet company.
With registered capital of 1 billion yuan ($153 million), Beijing Airlines is a joint venture 51 percent owned by Air China and the rest by Beijing Enterprises Group Company Limited, Beijing State-owned Assets Management Co Ltd and Zhongda Yinrui Investment Co Ltd.
The carrier has a fleet of nine business jets including Boeing Business jets, Airbus' A318 and the Gulfstream G450.
Meanwhile, the country's dominant player, Deer Jet, has plans to expand its current operating fleet from 32 to 50 by the end of this year after enjoying substantial growth since 2007, said Li Yingpeng, manager of the branding center at Deer Jet, a subsidiary of HNA.
Related readings:


Sky's the limit for privately hired aircraft 


 Aircraft sales to shoot skyward


Aircraft manufacturers eye Chinese opportunities 


China's first aircraft carrier 

"All of our charter flight services are fully booked this year," said Li, whose company has about 90 percent of the domestic private aviation market. "Each of our plane flies at least two hours a day."
Other airliners are also eager to tap the market. China Eastern founded its private jet company in 2008 and is hoping to expand its fleet to three planes this year, while a business jet company is on China Southern's agenda.
It is forecast by Canadian plane maker Bombardier Inc that the number of business jets in China will reach at least 600 in 10 years compared with the current 100 private jets in operation in the country.
The rapid expansion by plane makers into private aviation is being spurred by the rising number of the super rich and the gradual opening up of airspace.
"Our customers range from manufacturing and property tycoons to every sector of enterprise," said Li.
Hou Bo, deputy marketing manager at Donghai Jet Company, another private plane rental and management service provider, based in Shenzhen in South China, said: "We are frequently approached by Chinese billionaires asking how to get an airplane. They want to impress their business customers or guests with a private plane as proof of their wealth."
The Chinese ultra-rich only want new and expensive airplanes, Hou said.
To better serve their customers, Donghai has designed new routes based on where the billionaires live and their business destinations.
For example, terminals are located in mining regions including Taiyuan in North China's Shanxi province, Guizhou province in Southwest China and Guangxi Zhuang autonomous region in South China.
"Rich people do not want to leave their hometown, yet they need to travel frequently. When money is not an issue, they want to get to their destination as quickly and as privately as possible" and that is by plane, Hou said.
Donghai currently owns a fleet of 40 business jets but it is insufficient to meet demand. "We need at least two airplanes at each terminal," said Hou.
"Private airplanes are still largely considered here a symbol of personal wealth," Hou said. "But it is actually a transportation vehicle that helps people make more money. How to use an airplane to earn more is what Chinese customers should be thinking about."