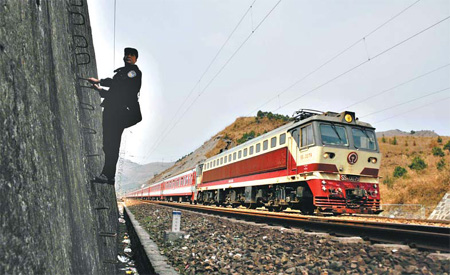 A police officer for the Tongren Railway Station, Guizhou province, checks safety along the line as a passenger train passes in February. [Photo / China Daily]
BEIJING - The Ministry of Railways has launched a 10-day nationwide safety check following its decision last week to lower the operating speed of high-speed railways for safety reasons.
According to a statement on the ministry's website published on Saturday, the check focuses on safety measures along the tracks, including both high-speed and slower railways.
Local railway bureaus are urged to patrol lines and check whether all required protective measures are in place, especially at spots where railways cross roads and bridges, and in sections where roads and railways lie side by side, the statement said.
Related readings:


 High-speed rail cuts into airlines' success 


 US to introduce China's high-speed rail 


 High-speed rail stays on track


 High-speed link means fast future for tourism destination

All venues that produce or sell dangerous goods but lie too close to rail tracks will also be cleared out, it said.
According to China's regulations, areas from 8 to 15 meters on each side of the tracks are special zones where construction and excavation are forbidden.
The regulations also ban any production, storage and sale of flammable, explosive and radioactive articles 200 meters from the tracks.
Explaining the ongoing safety campaign, the ministry said that the current safety situation along the lines is "severe", but did not elaborate.
However, Zhang Junbang, head of the Zhengzhou railways bureau and a deputy to the National People's Congress, said in March that after some new high-speed railways were built, railway workers on regular patrols found that villagers had built pigpens under bridges where tracks run.
The illegal construction poses a safety hazard for fast trains, he said.
The safety check was kicked off on Friday, the same day President Hu Jintao inspected the high-speed railway in Hainan province in South China.
After riding on the island's high-speed railway, Hu urged government departments to "make all efforts to guarantee its safety" and crack down on corruption related to railway construction.
The safety check is the second measure targeting safety taken by the ministry in a week, and follows the appointment of the new Minister of Railways Sheng Guangzu, who took on the role on Feb 25, replacing Liu Zhijun.
Last Wednesday, Sheng announced that the country's high-speed trains will run at 300 kilometers per hour starting from July 1, instead of the previously announced 350 km/h. The measures are said to make the network operate more safely and provide a wider range of ticket prices due to lower operating costs.
"Two new measures in a week concerning railway safety show that the new minister is paying great attentions to high-speed railway safety," Zhao Jian, a transport professor at Beijing Jiaotong University, said on Sunday.
"High-speed railways have high risks. If there is any accident on a high-speed railway running at 300 km/h, it could kill hundreds of people, and its impact both at home and globally would be huge," he said.
By the end of 2010, China's high-speed rail network reached 8,358 km, the world's longest.
"It (the safety check) is the right thing to do, but not enough," Zhao said, expecting that more measures are likely to be taken by the new railway minister in the coming days.