BEIJING -Metallurgical Corporation of China Ltd (MCC), one of the world's largest engineering contractors, reported a year-on-year increase of 7.3 percent in net profit in 2010, boosted by a transformation of the business.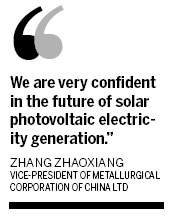 The company earned operating revenue of 206.8 billion yuan ($31.52 billion) last year, up 24.7 percent from a year earlier, while net profit increased to 5.57 billion in the same period, according to the company's financial release on Thursday.
MCC said it had reduced its reliance upon iron and steel metallurgy in the engineering and construction segment by expanding into the non-metallurgical engineering and construction sectors such as building construction and transportation infrastructure. The company has also focused on overseas construction markets such as Brazil and the Middle East.
The value of newly signed contracts for MCC's engineering and construction business touched 218.5 billion yuan, surging 19 percent from a year ago, while revenue from non-metallurgical engineering and construction reached 70.4 billion yuan, a 43.7 percent increase year-on-year.
Revenue from non-metallurgical business is expected to account for 60 percent of revenue from the construction sector by 2015, the company said in the statement.
MCC's polysilicon business also presented potential for profit growth, given a decrease in costs and a shortage of supplies.
"We are very confident in the future of solar photovoltaic (PV) electricity generation, given the reconsideration of nuclear energy policies after Japan's nuclear crisis," said Zhang Zhaoxiang, vice-president of MCC. "Currently, domestic polysilicon production is lagging far behind demand at less than 50 percent of total demand."
Related readings:


 MCC's property arm accelerates overseas expansion


 MCC accelerates expansion


 MCC's Afghan copper mine to start output in '13


 MCC bidding for Anglo's zinc assets
He also said the company aims to more than double its polysilicon capacity this year to reach 10,000 tons. Production reached 4,117 tons in 2010, representing a year-on-year increase of 87.7 percent.
MCC also intends to invest to reach production capacity of 20,000 tons, Zhang said, without specifying a time frame for the rise.
According to a report from the Joint Research Center of the European Commission, global PV power generation will increase significantly and will account for 20 percent of primary energy by 2050, boosting demand for raw material polysilicon.
The company's real estate portfolio also contributed to the rise in profit. In 2010, profit from real estate accounted for 21.5 percent of the total profit, up from 9.8 percent in 2009.
Resources development will be one of the major focuses for the company in its future business development, Zhang said.
MCC has also accelerated overseas mining acquisitions. It made steady progress in developing the Ramu Nico project in Papua New Guinea and in other overseas mine projects last year.
By 2015, revenue from resources development is expected to account for 12 percent of the company's total, while revenue from real estate development will be 10 percent.